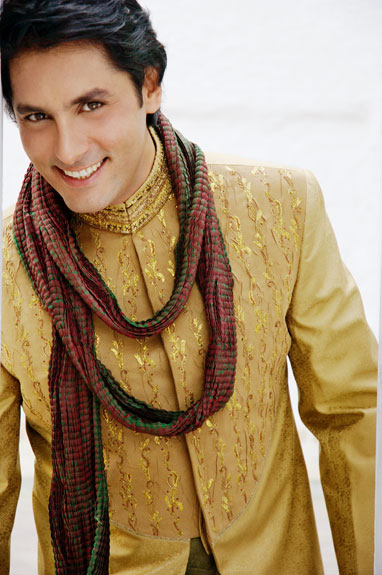 All of you must be familiar with Sherwani, yes, the dress mostly worn by dulhas on their wedding. Here we are with latest Sherwani designs, which will surely amuse you.
Sherwani has been a cultural dress for quite some time in South Asia; it's a tradition to wear it on festivals such as Eids, state dinners and weddings in Pakistan. It is a kind of formal dress like a long black coat (now available in every color) worn with a shalwar and qameez underneath, it gives a perfectly royal look to its wearer.
Sherwani is generally made up of heavier suiting fabrics, silk or wool with lining. With changing fashion, there is a wide range of sherwani designs, fabrics and colors representing the fusion of modernity and ethnicity.
Nowadays there are a number of dress designers who come up with pretty innovative sherwani styles. Starting from a Jodhpur sherwani style to typical Pakistani dulha sherwani designs that give a cultural touch are available around the country.
Dulha sherwani designs are accompanied by a turban normally and are very much decorated to give them a classy sherwani style. Dulha sherwani designs are usually demanded in red or black colors to go with the wedding occasion.
As weddings are a once in a lifetime experience, the groom deserves to look his best in the best of clothing. Sherwani styles vary from casual to extra heavy and formally embroidered collection. There are different types of latest dulha sherwani designs available today. The hand embroidered designer wears are in great demand these days.
In the more casual types majorly the collars are made more extravagantly with a "chunri" turban to accessorize the outfit .It usually depends on how much you want to spend on your sherwani style . In winters even velvet sherwani styles have been in and very much in demand. Golden sherwani styles with silver embroidery with little sequins represent the state of the art of dulha sherwani designs.