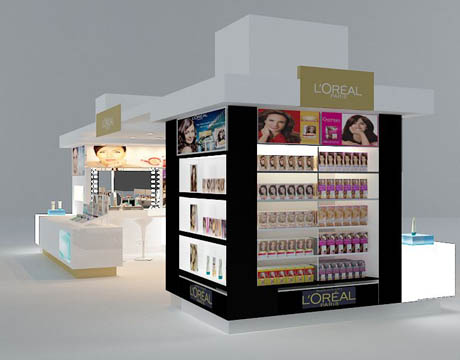 "Revitalift Double lift works like an instant lift for your skin. Its double anti-ageing action goes deep into your skin instantly reduces fine lines and makes skin visibly tighter." – L'Oréal Pakistan Spokesperson Aamina Sheikh.
L'Oréal Paris, the world's leading beauty brand, proudly announced a brand new series of exciting and interactive Experts mall animations in Karachi and Lahore celebrating beauty, skin care and their world No. 1 in anti wrinkle creams franchise Revitalift at a press meet on the opening day of the experts' mall animation.
In keeping with L'Oréal Paris' global philosophy of technical expertise and revolutionary innovation, Park Towers in Karachi and the Mall of Lahore is open to visitors to treat themselves to the L'Oréal Paris beauty experience with their Experts. These include specialized skin care services including; personalized skin consultations in Karachi and Lahore with L'Oréal Paris' expert panelists including beauty therapist Peng Qureshi, cosmetologist Ujala Zia and dermatologists Dr. Khilji, Dr. Saadia and Rubina Hassan; Makeover services by Saba Ansari of Sabs in Karachi and Maram of Maram & Aabroo in Lahore.
Hosted by L'Oréal Pakistan Spokespeople Aamina Sheikh and Anoushey Ashraf, the ladies spoke about the mall animation activities planned by L'Oréal Paris this year including information on the current Experts Mall Activity with complete with skin consultation and testing areas, the makeup makeover areas while also introducing the L'Oréal Paris experts panel for Karachi; beauty therapist Peng Qureshi, cosmetologist Ujala Zia, dermatologist Dr. Khilji and stylist Saba Ansari of Sabs all of whom were present at the event providing personalized skin consultations.
In addition to experiencing one-on-one free professional consultations with L'Oréal Paris' skin experts and beauty panelists, visitors have a chance to avail facial services at the expert's salons. Additionally, at the animation venues L'Oréal Paris products are also available at special promotional prices for patrons to purchase.
Speaking about their Mall Animation Events, Marketing Manager L'Oréal Paris, Zainab Pasha has said, "It is important for women to be aware of the right skin care regime to follow, especially when it comes to ageing. Every skin type is different, every skin concern is unique, and we believe our mall animations are a chance for consumers to engage with our Experts face to face and to learn about their personal skincare solutions."
"Facial cleansing helps replace your dead and damaged skin cells for skin regeneration. This makes your skin look younger, radiant and healthy throughout the day" says Peng Qureshi on the importance of facial cleansing. Dr. Khilji shares his views on the use of toners, "Toners work best after using cleanser. They help tighten the pores of your skin, improving its texture so that your skin feels smoother. For best results use toner daily". "Ageing skin needs firming care. Revitalift Moisturizer is enriched with Pro-Retinol A and Elastin that visibly reduces wrinkles, so skin looks firmer and younger" says Ujala Zia on key functionality of Revitalift Moisturizer.