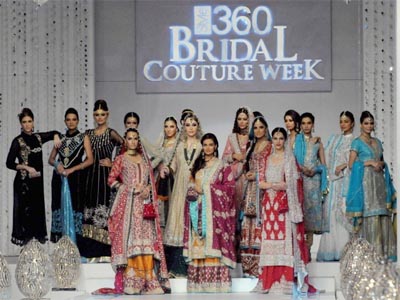 Style360 Bridal Couture Week organized by Style360 and sponsored by Pantene, in association with J&S, brought the week to a close in a magnificent way. In keeping with the bold and challenging initiative it had taken up of changing the set everyday – there were red chandeliers on the first day, and egg-shaped lamps and chandeliers on the second – the ramp today was decorated with a profusion of red roses and different chandeliers, with white cut-out roses adorning the stage.
The show opened with Karachi's home-grown Deepak Perwani.
Deepak Perwani
Deepak Perwani, one of the well-reputed and brilliant fashion designers of Pakistan is a name that requires no introduction. His product line includes men's embroidered kurtas, sherwanis, casual shirts, bridal wear, bridal accessories, saris and formal wear. Deepak Perwani never follows the traditional or ongoing fashion statement of the country; rather he makes 'his own'. He has participated in several national and international fashion shows including Dubai Fashion show and the Zargalli premier where he earned a lot of fame and appreciation. He is also a winner of LUX and Indus Style awards.
Reem Abbasi and Amna Kardar came in next.
Reem Abbasi
Reem Abbasi is an Islamabad-based jewellery designer who produces not only modern, high fashion jewellery but also intricate and traditional pieces from Pakistan's rich culture. She considers designing jewellery as an opportunity to make her abstract ideas tangible. Her exposure to a multi-cultural upbringing leads her to incorporate different cultural blends in her jewellery. Her inspiration is her passion for fashion. 'Keepsakes by Reem' was launched in 2010 as a line of stylish jewellery that marries sophisticated glamour with delicate feminism. Each piece is crafted with love using beautiful precious and semi-precious gemstones, rough cut diamonds, pearls and Swarowski crystal blended with sterling silver and 9-karat gold plating. 'Keepsakes' is currently displayed at a designer outlet in Islamabad.
Her collection tonight was all about playful nostalgia.
Marking the end of this first segment was Shaiyanne Malik.
Shaiyanne Malik
Shaiyanne Malik is an artist whose canvas encompasses the entire spectrum of Pakistani fashion. Shaiyanne launched her fashion label over twenty years ago, attaining fame overnight, particularly for her bridal couture. She runs her own fashion house, with the label SamanZar. Today she is acknowledged as a pioneer who paved the way for the development of the fashion industry in Pakistan. Ever the romantic at heart, the award winning fashion designer Shaiyanne Malik is continuously reinventing herself both locally and internationally.
Shaiyanne has repeatedly brought home laurels by participating in various expo fairs, fashion weeks and related forums across the world. In this glitzy and fast-paced world of fashion, SamanZar remains a brand to be reckoned with. In 2000, she represented Pakistan at the International Silk Route Festival in Istanbul, Turkey and won the four principal awards, including: Best Fashion Designer, Best Country Presentation, Best Ensemble, and Most Promising Designer.
Segment 2 of Day 3 was opened by Faraz Manan.
Faraz Manan
Sundas and Faraz Manan are one of the emerging and shining names of the local fashion world. Their brand Rouge is about modern silhouettes with an eastern touch embellished to give a vintage look incorporating local fabrics. Inspired by their mother and designer Memoona Manan, the brother and sister duo, is working on couture and bridal wear, and establishing their name both nationally and internationally. Rouge has had the honour of designing couture for Victoria Beckham as well as the Saudi Royal Family. Fashion brand Rouge has been nominated for Best Couture at Lux Style Awards.
Saba La Chantal came in next.
La Chantal by Saba
Saba Waseem is a designer who discovers the hidden beauties of traditional designs and blends them into modern sensibilities. Her work depicts a sense of strong inspiration from the rich eastern culture inscribed into contemporary fashion design, and is a treat for women of all times.
The brand La Chantal is one of the leading fashion designs that have expanded its reach in the last few years. They offer an exclusive mixture of casual fashions and chic runway designs boasting unique colour schemes. Out-of-the box selection of beads and jewellery instilled on a fabric with clean, simple lines are Saba's forte. Saba believes in creating original designs and they are mostly influenced by nature.
Lahore's famous designer Mehdi closed the evening.
Mehdi
Mehdi, the designer whose designs successfully combine elegance and sophistication of yesteryear and dynamism and funk of today fulfils the unique vision of tomorrow, a vision that is modern yet elegant, unconventional and unseen. Mehdi brings quality in couture with a capital Q. His clothes are the embodiment of today's woman, who desires to be all she can be.
With a strong presence all across the globe, Mehdi has established a brand that is synonymous with creativity, quality and excellence. Excelling in both eastern and western wear, the brand's strength is tied to the designer's unique vision. He is experienced enough to work wonders with traditional forms of the craft, yet edgy when it comes to giving his creations a stamp that is decidedly his own. Tonight's collection from the maestro celebrated freedom and innocence in a very glamorous and distinctive way. Mehdi's designs adhere to the high standards of creativity, quality control and cutting edge modernism.
The surprise element on all three days was Hasan Rizvi's troupe of BodyBeat which entertained the audiences in between shows, and brought the house down with their lively mehndi dances, so apt at a Bridal Couture Week.
Rabya Chaudhry, too performed in-between shows to Hasan Rizvi's choreography; she has been performing for the first time, and that too on a catwalk.
The impressive line-up of 48 models included both local and international divas. Renowned names like Iraj, Nadia Hussain, Rubya Chaudhry, Tooba Siddiqui, Zeeshan Shafi and Abrar Khan among many others represented Karachi, while Ayyan, Cybil, Neha, Nadia Ali, Rabia Butt and Iffi among many more represented Lahore. Dubai models included Sandy, Diana, Daria and Fifi among others.
The stylists on the three days were Sabs (on day 1 and day 3) and Ruqqaya and Depilex on day 2. The show was produced and choreographed by Vaneeza Ahmad while Tapu Javeri provided the music. Over 40 stalls dealing with bridal-related products and services including giveaways, jewellery, clothes, shoes, salons, honeymoon packages and hotels filled the exhibition hall and were viewed by thousands of people who came everyday to visit these stalls and see the shows.
The designers of day one, segment one were India's top designer JJ Valaya, and Pakistan's veteran designer, Neelo Allahwala.  Segment two opened with Maheen Khan, followed by Ayesha & Somaiya, and closed with Rehana Saigol.
The designers of day two segment one were Mona Imran and Shireen Hassan. Segment 2 was opened by Lajwanti, followed by Zainab Sajid and closed by Hajra Hayat.
This was the second Bridal Couture Week to be organized by Style360 – the first was held in November in Lahore. The next event is scheduled for September this year in either Lahore or Islamabad.