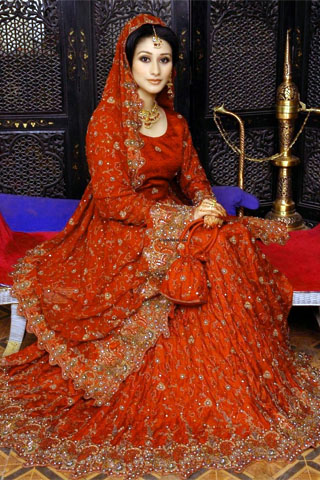 Pakistani wedding dress the dream of every bright to be different from the traditional look in the year 2011.
In Pakistan the weddings are so extravagant; people tend to spend the most on weddings. It's a dream of every girl to look good on her wedding day. The day it has been decided that the girl is to be married she starts looking for her wedding dress. Particularly in Pakistan the Pakistani bride wants her Pakistani wedding dress to be embellished with beautiful stones and embroidery, the colour she chooses are mostly from the family of reds since Pakistani wedding dresses have traditionally been red. For red is a colour that depicts strong emotions. Although Pakistani wedding dresses for day two that is the reception day can be of a lighter colour.
The Pakistani wedding dresses in year 2011 have showed a variety of trends in the colour and the design, after years of weddings and the brides wearing red, the girls now want their wedding dress to be different either they combine a colour with the tones of red or just simply go for other colours such as pink, or shades of gold to give a little twist to traditional Pakistani wedding dress look.
bove all, the recent buzz of bridal fashion weeks, happening in Lahore and Karachi, have really evolved people's aesthetics for choosing a perfect wedding dress. Bridal Couture Week 2011 that recently dazzled Karachi with its enchanting displays of bridal treats have brought forward a whole new spectrum of colours and modern designs to cater to the bridal dreams of modern girl.