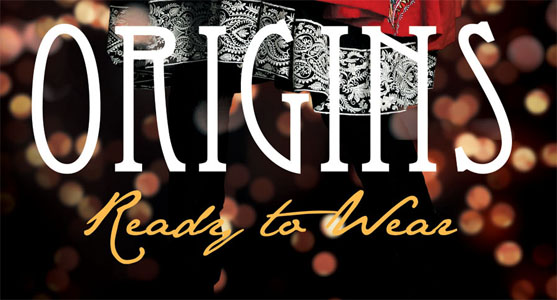 In 2010 a revolution hit the prêt ready to wear stores of Lahore by the name of Origins. For the first time women could pick off the racks clothes that were not only affordable and ready to wear, but also, made of the finest exclusive cotton, and cut to perfection to flatter every kind of women's figure. From flowey a line gheras to simple straight modern cuts, short kurtas to funky ethnic- Origins had something for everyone. Embellished with Balochi galas, a touch of Sindhi karhai on a sleeve, epic Kashmiri embroidery to simple prints, and white on whites, the store was emptied out faster than production could initially handle. This year Origins was back with self embossed jaquards, flowing swiss chiffon, textured cottons, stunning traditional embellishments form Balochistan, Ajrak chooridar sleeves from Sindh, Kashmiri Tanka delicately working on a neck line, rilli from Sindh and Punjab, mirror work to an exclusive block printed material from Bhawalpur. The new collection boasts of clothes for the working woman, the house wife, smart casual wear to clothes worked with a ghera of gota pati.
There is a beautiful embroidered trouser, a stunning Sharara and some magical white on whites again this year. Other than the quality of the stitching and designing, the carefully measured and tailored cuts are the fantastic value for money.
From 2900 rupees to 6000 rupees for a complete outfit the clothes are a bargain NOT to miss!  After the running success of Origins fantastic and vibrant spring summer 2011 collection, the Origins Karachi store finally opened its doors on the 30th of April at Zamzama. Karachi is where women are cosmopolitan, home makers, love to socialize and enjoy a good outing, where people know how to party and where the humidity needs that pure flowey cotton touch, Karachi where women understand good prêt, comfortable prêt and quality prêt-just what one expects from an Origins woman.
The event gave a chance to see the beautiful collection in a form of a fashion presentation. The fashion presentation gave a better idea on how these stylish and unique clothes should be worn. The models for this fashion presentation were; Iraj, Nadia Hussain, Rubab, Fayeza Ansari, and Fauzia.  This fashion presentation was coordinated by the talented Catwalk production team. The guests included; Mahira Khan, Ayesha Khan, Hamayun Sayeed, Feeha Jamshed, Maheen Khan, Faisal Qureshi, and CEO of Catwalk Production Frieha Altaf.