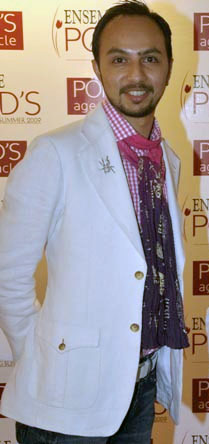 When it comes to Pakistani fashion designer Nomi Ansari, there is no end to colour, vibrancy and boldness. These characteristics make him a great maestro of immaculate cuts, distinctive styles and great colour combos of couture. Recently, the fashion designer introduced his lawn collection for the first time in Pakistan.
Pakistani fashion designer Nomi Ansari is a graduate from Pakistan School of Fashion Design (affiliated with La chambre syndicate de la Couture Parisienne, France), class of 2001 and came out with his label the same year. Since then there has been no turning back for Nomi Ansari Design Studio.
Known for his in detailed craftsmanship in formal, party and casual wears, Nomi knows the art of playing with intricate embellishments. Nomi's pret-a-porter collection has multitude of different styles so that they attract people with diverse aesthetics and fashion sensibilities. From bridals to formal, party and casual wear Nomi's ensembles gel naturally. He is know for his new experimental cuts and looks and has always been a leader being followed by many other designers. In a nutshell, this renowned Pakistani fashion designer understands the consumer, respecting the individual's personal codes and tastes, further refining them rather than thrusting his own concepts.
While talking about his design philosophy Nomi Ansari stated, "I just have to ensure that my client looks beautiful and super-glam at the end of the day, come what may and defying all odds." The best thing about his work is that he works with all sorts of budgets from mega high to very tight fists which makes, it easier for the customers to select from, formal wear, party wear and casual wear.Nomi Ansari takes inspiration from life anything nature had to offer, a flower, a bird, skyline, ocean flowers or the natural fibres which give his formal and casual wear a feel of being alive and happy. You can find a fine mix of ethnic and contemporary elements dazzled by bright colours. The fashion designer uses textured fabrics this time like cotton karandis etc. The clothes are ethereal with delicate embellishment in an array of hues – which show his never ending love for colour.
Recently, Nomi Ansari lawn prints were the most awaited lawn collection in the city. Tooba Siddiqui was the brand ambassador. Interestingly, his prints cater to formal, party wear and casual wear. His prices range from Rs 2500 to Rs 4000. His lawn made a lasting impact on Pakistani clients and invited many to come and buy the very best of Nomi Ansari.
Nomi Ansari's collections are available in Karachi, Lahore, Islamabad, Dubai, Chicago, and Singapore.