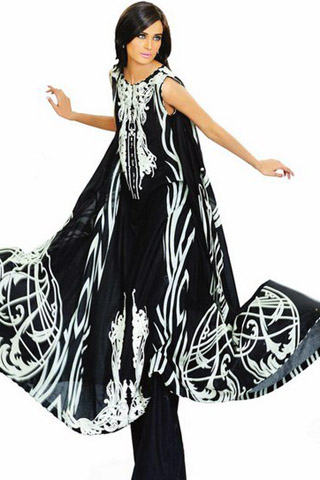 Summer season has arrived in Pakistan and the latest Pakistani women fashion trends are on the loose! Much expected, the craze for having designer lawn suits is at its verge.
Due to the ever increasing popularity of designer lawn suits and colorful prints, this summer more than 50 different signature lawn collections have been launched in the market.
Earlier, Pakistani women fashion for summer season was all about lawn suits by Gul Ahmed, Al-Karam and a few others, But today, the prêt wear designers, models, television celebrities etc all have jumped into this business and they are coming up with their signature lawns. This trend has brought up such a strong impact on Pakistani women fashion scene that it is unexplainable to describe the love of it by the women of Pakistan.
Recently, Nida Yasir a famous television actress launched her lawn suits collection in Karachi as a part of Pakistani women fashion 2011. It is interesting to know that the prices for normal three piece lawn suits have gone really high. Till last year, a good three piece lawn suit was within a range of Rs.1800-2000 from a designer label but this year, the prices of Pakistani women Fashion lawn suits have gone up to as high as Rs. 10,000. Still, no change has been witnessed in the buying behavior of the people and they are buying it more than ever before. The love for Pakistani women fashion is so high that from the start of February, bookings and orders were taken by designers online through their official websites and Facebook pages and they had to produce more products due to the shortage even before getting their collections officially launched in the market.
This is one side to the Pakistani women fashion for summer 2011. It was an elite side of the story and it was for those who can easily afford to grab designer pieces for their summer collection. The other side of the Pakistani women fashion for summer 2011 is for women with limited budget and incomes. A large part of Pakistan's female population falls into it and it is interesting to see how innovative they are for Pakistani women fashion 2011.
The women and young girls falling in the second category go for lawn and cotton prints that are available in places like Liberty in Lahore, Ashiana in Karachi, Rabi Center Rawalpindi etc. There is an amazing collection of printed lawns and cottons that cost around Rs. 300 per shirt cloth. These prints are trendy, reasonable, and durable and allow a lot of creativity to be experimented with them. Unlike the designer lawn suits, they are not restricted to just one particular design that came out of the designer's mind rather, each and every girl can use her own thoughts to experiment with these prints and come up with her own creative designs. They are ideal to beat the heat in the hot summer season of Pakistan and extremely perfect Pakistani women fashion for college going girls, housewives and females who prefer a cool and casual look for the summer season in a limited budget.
Therefore, we have provided you a complete picture of Pakistani women fashion trends for summer 2011. Now feel free to suit yourself and decide which the better option for you is and which will make you look trendy, chic and good-looking in this summer!