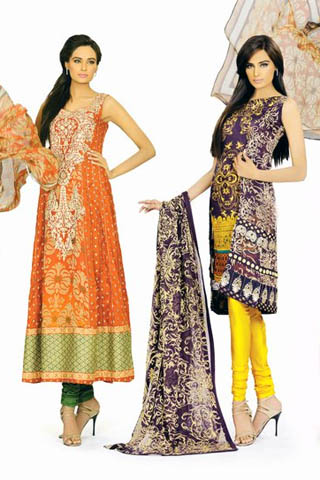 The House of HSY is proud to bring to Pakistan their first ever luxury print collection being exhibited throughout the country in all major cities including Karachi, Lahore, Islamabad, Rawalpindi, Peshawar, Faisalabad, Multan and Sialkot – this is the largest number of cities where any designer lawn will be available along with stockists throughout the nation along with an exhibition in Dubai.
This latest retail extension of the respected fashion house is inspired by Hassan Sheheryar Yasin's travels and that which inspires him during these travels. The collection is broken into 5 regions; Latin America, Paris, Turkey, South of Italy & Cuba. The names of the prints are also a reflection of those inspirations and include print titles such as: feel, bold, life, folk, art, glory, soul, live, soar, move ,dream, poem, joy, fresh, love, light, calm, luxe, icon & pride.
The World of HSY Prints is being retailed as an unstitched range of complete ensembles. Priced competitively between PKR 2500 – 4500 with twenty designs within the collection and each design available in three distinct colour palettes, The World of HSY Prints endeavours to bring forward the fashion houses' coveted aesthetic to a larger audience in Pakistan, through this accessible brand.
With a mélange of textures, patterns and hues, the first World of HSY Prints collection includes a diverse assortment of prints present in each ensemble allowing buyers to mix and match instead of remaining confined to a single print outfit. Furthermore, having achieved much success and critical acclaim for their menswear, The World of HSY has also included unisex cotton prints within their debut collection to cater to their ever increasing male clientele.
Head designer and CEO of the HSY design house Hassan Sheheryar Yasin has said "The World of HSYs' first collection of luxury prints is a tribute to the modern Pakistani. Someone who is a perfect balance between tradition and experimentation. The collection is a celebration of self expression, where our designs mirror their emotions, cultural heritage and characteristics."
The World of HSY Prints will be exhibited across the country and later available at stockists nationwide and internationally.
| | | | |
| --- | --- | --- | --- |
| City | Place | Date | Time |
| Karachi | THE PALM | 10th – 12th of April | 09.00 AM – 10.00 PM |
| Lahore | PFDC The Boulevard 10 Q in Gulberg | 9th – 11th of April | 10.00 AM – 10.00 PM |
| Islamabad | Marriott Hotel | 15th – 16th April | 10.00 AM – 10.00 PM |
| Rawalpindi | Pearl Continental Hotel | 15th – 16th April | 10.00 AM – 10.00 PM |
| Peshawar | Pearl Continental Hotel | 16th – 17th April | 10.00 AM – 10.00 PM |
| Faisalabad | Serena Hotel | 15th – 16th April | 10.00 AM – 10.00 PM |
| Multan | Ramada Hotel | 16th to 17th April | 10.00 AM – 10.00 PM |
| Sialkot | New Taj Cloth [Main Bazaar] | 16th to 17th April | 10.00 AM – 10.00 PM |
| Dubai | Vavas fashion -Meena bazaar Bur Dubai -Near paid parking | 10th – 12th April 2011 | 11 AM – 9 PM |