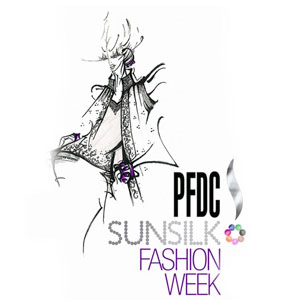 LAHORE: Third Pakistan Fashion Design Council Fashion week continued on 2nd day of the event. In an organic expansion of the platform and indeed for the first time in Pakistan, the PFDC executive committee introduced afternoon Voile shows prior to the luxury evening shows and daily post-show exhibition stalls at the venue itself, allowing buyers, media and consumers to view collections shown on the ramp. In the Voile show, major textile industries set up their stalls, including Lakhani Mills, Keserya, Bonanza, Five Star and Bareeze. The companies showed their latest designs in the Voile.
Next, the ramp session started in which designers showcased their designs, including Karma, Sarah Salman, Republic, Akif, Sadaf Malaterre, Rizwanullah, Asifa & Nabeel and Khaadi Khaas Karma's collection was titled "JOY", taking its inspiration from the things in life that bring peace, happiness and contentment. The beautiful collection took traces out of the lifelong influences and inspirations of the designer. Befitting the collection title, the collection embodies butterflies, sparkles, blooms, colours of the vanilla sunset, rainbows and summer gardens. The Sarah Salman's women's wear collection, titled "Chand Begum," was inspired by the sub continental era from 1940 to 1947.The collection interprets Begums' and Nawabs' elegant vintage style of dressing during that period specific to royal dinners, festive and colourful events. With fabric such as chiffon, chicken and satin embellished with hand embroideries, mirrors and crystals, expect vintage cuts manifest of the pre and post partition wardrobe styles The new men's wear collection by Republic titled "Vagabond", followed the success of their last collection, the sixties based "Mediterranean Affair". "Vagabond" took the audiences back to the roots of western grunge of the late 1930's, as inspired by the feature film True Grit. Vagabond was a thorough gentleman's collection inspired by the slightly nipped waists and extra fabric in the shoulder, which would take one back in time. The collection worked in classic fabrics, such as wool, tweed, leather and suede with fur trims. Akif Mehmood's women's wear collection was titled "Fkeerni (rags to riches)."
To this end, Mehmood's latest collection finds inspiration in Pakistan's impoverished yet eclectically attired members of the gypsy community, oft seen in urban centers in multi print/fabric traditional shalwaar kameez and patch worked clothes with heavily pierced ears and noses. Sadaf Malaterre's women's wear collection was based on soft colours inspired by the evening sky, sprinkled with starry shimmer. The Sadaf Malattere silhouette is feminine with fluid chiffons with the designers' signature use of embroidery to add texture. The Sadaf Malaterre brand epitomises the results of experimentation with clothes and the ability to have fun with fashion. Boho chic by day and glamorous during evening soirees, Sadaf Malaterre's fashion aesthetic captures an engrained free spirited bohemianism.
Rizwanullah's unisex collection was entitled "Sweet But Savage" and takes inspiration from life itself. Showcasing for the first time at the PFDC Sunsilk platform, Rizwanullah's "Sweet But Savage" collection was based around the designers' own personal style and represents an eclectic mix of fashion, quirky and fun at times while simple and classic at others. Titled "Saein", Asifa & Nabeel's collection was inspired by the love of God in accordance with the Sufi path wherein rests the belief that mankind has always been one with God and that the Sufi path to love entails a life time, as there is no single moment when true union with the God occurs. Encompassing women's wear and men's wear, Asifa & Nabeel's collection was based in pure chiffons and silks with fusion cuts and embellished with traditional threadwork, stones, zardozi and dabka.
Khaadi Khaas's women's wear collection "Bohemian Rhapsody" was set to evoke the feeling of the 70s in a more contemporary context. With an overall bohemian look with a lot of emphasis on border prints and folkloric motifs, this collection presents strong and bold designs in geometric shock with sharp and jam-packed motifs in diagonal arrays. Comprising a wide colour palette, "Bohemian Rhapsody" presents lengthy flared one piece light-weight gowns along with wide legged trousers, tunics, bandanas and caftans based mostly in silk, chiffon, lawn and denim enhanced by leather and suede finishing.