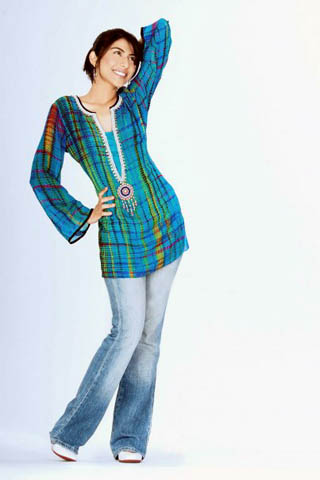 Pakistani fashion during the summers is to be bold as well as beautiful.
With the arrival of the summer the Pakistani fashion now encompasses all the bright and exciting colours, the lawn prints and the designer lawns are all so exciting that the harsh sun wouldn't let the spirits of the Pakistani fashion trend down. The ladies can boldly go for all the bright colours including the shades of pinks, yellows, coral greens and peacock blues.
The variety of colours and the opportunities to get an outfit tailored in Pakistan is found nowhere in the world. The collections of lawn give Pakistani fashion an edge to encompass the western as well as the eastern cuts into the latest trends of Pakistani fashion. Pakistani fashion has marked its name among all the other fashion industries all over the world. Pakistani fashion now has the prominence worldwide since it is trendy as well as traditional. The summer clothing in Pakistani fashion are especially very colourful and traditional. This summer it's time to be bold for the ladies in Pakistan. Pakistani fashion doesn't just calls for the boldness but it also calls for the experimentation, if you haven't worn a colour before, especially white then go for it. Wear white and go bold. Wear all the chunky big accessories since they go with the Pakistani traditionally designed fashion outfits. The Pakistani street fashion now calls for the celebration of colours and the accessories. Don't just forget to wear the accessories, dig into your grandmother's old wardrobe and find some master pieces of the past that are now in fashion the classic example is of the kurti's to wear with jeans and the churidar's with the long loos fitted shirts.
Besides this since it gets extremely hot in Pakistan we can't get rid of lose cut outfits, we would still have the loose cuts this season and go for a shorted length to wear with skinny jeans or churidar, that is our version of skinny jeans.
Since the season brings along a lot of festivity with it we should have all the outfits for the festivities ready before time. The mixture of colours just brings life to every festival in Pakistan; the dress should also depict the brightness and beauty of the festival. Just make sure it looks great on the wheatish Pakistani complexion.
Pair the churidars and the summer outfits with the most amazing chappals that keep your feet comfortable and looks great as well. The chappals are also available in the bold and bright colours in Pakistan to go with the Pakistani trend.