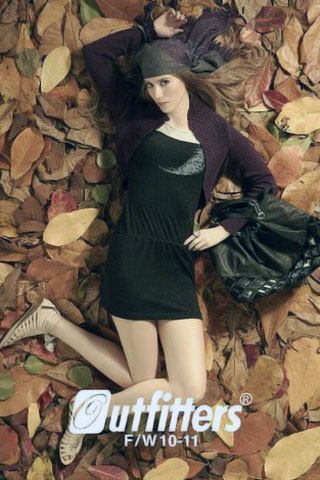 Outfitters being Pakistan's leading RTW Fashion Brand and amongst Pioneers which doesn't need any introduction, however with over 7 years in the Fashion industry, Outfitters is now introducing its new brand "Ethnic "by unveiling its Spring/Summer 11 collection at Ethnic stores in Lahore, Islamabad and Faisalabad.
Representing a whole new collection of women eastern wear with Outfitters ethnic inspired design signature, keen detailing and sensual silhouettes, offering relaxed functionality and classy style for every fashion savvy woman shopper. Ethnic Spring/Summer collection also refers to as amalgamation of the rich and diverse culture of East and West both with a very strong individual flavor yet blending in to create a chic fusion line.
These garments reflect the rugged feel of West through colors like Beige, Oyster, Off-white and are very well combined with the bright colors of East like coral reds, greens, purples, and yellows for surface ornamentation. The silhouettes with a very modern and rodeo-driven like appeal have variations in shirts, pants, dopatas which have been delicately created by using fabrics ranging from cotton, chiffons and jersey.
So be the first to be the part of Ethnic and witness the signature of Outfitters on 21st March in Lahore.