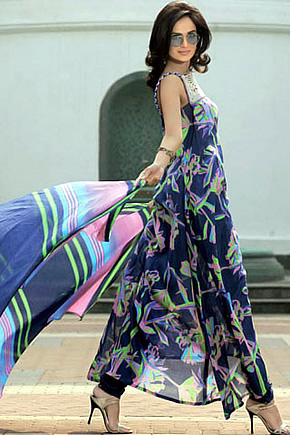 2011 is a start to a new decade, 'fashion' one of our favorite and most used term is in full swing. We all want to know what Pakistani fashion trends 2011 are all about. Winters are coming to an end and we all are gearing up to refresh our wardrobes for spring and summer 2011.
Ladies white is the new black, if you think it will not look gorgeous on you then you are sadly mistaken. White is for everybody from fair to wheatish complexion. You will be amazed how white is so elegant and graceful, don't forget to wear your pearls along to enhance it. White is easy to carry whether in the form of a Kurta that you can wear on your jeans or a long dress along with Churidar Pajama, which is our desi version of skinny jeans.
Churi Pajamas are the traditional fitted Pajamas being worn in India and Pakistan for a very long time. A point came when our new generation was completely alien to what this is and found skinny jeans very hip and in. This is the time when Churidar Pajamas came back in to fashion. They look exquisitely elegant with the kind of long Kameez's that are in these days. I know what the next question is? Where do we get these since the tailors drive us insane? These days almost every boutique is making ready to wear Churidar Pajamas. Unbeatables and Funk Asia have one of the best ones.
Pakistani fashion trends 2011 make you realise how you should never throw your old wardrobe away, as fashion always repeats itself. Your grandmothers will definitely have the vintage wayfarer sunglasses that you can borrow, even if they don't they are very easy to find since they are so in these days. As for older women maybe it's time to look back at your favourite movie star Audrey Hepburn and the kind of sunglasses that she used to wear.
How can we miss out on accessories, we all are so immensely attracted towards them since we were little, always copying our mothers and wanting to wear their rings and pieces of jewellery. Fashion 2011 brings in another piece of jewellery because of the high rated gold. Kundan, the most traditional jewellery in our culture is catching up its pace again. It is one of those things which will never go out of fashion. It looks elegant with whatever you are wearing; it can be in the form of big chunky rings to small earrings. To have a piece of this jewellery you definitely not need to be rich as Kundan is very affordable yet gives a royal look.
Pakistani fashion trends 2011 also give you a free reign over your fashion sense. You always have the liberty to bring out your own fashion. Always remember you look the best in what you are comfortable and know how to carry around. You can wear skinny jeans under a traditional Kurta with funky long necklaces, bangles and yet look very stylish. But in case you are a hard core fashion follower then Pakistani fashion trends 2011 is all about bright colours such as cherry red and fuchsia pink. Enjoy 2011 wearing those bright colours with matching accessories and having your confidence. Bright colours make you feel younger and look gorgeous.