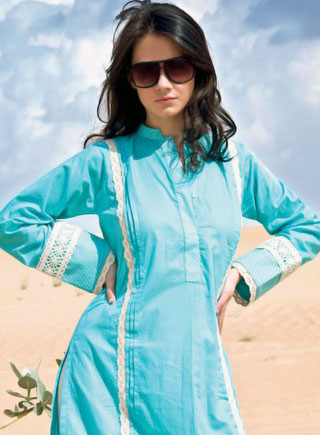 Pakistani fashion trends leaves behind all the trends because of the variety of creations in Pakistani fashion.
With the arrival of the spring the ladies need to bring out the brighter side of their personality. The latest trend in the women's fashion is all the bright colours, since the summer will be taken over by neutral subtle colours, so during the spring be bold. Go for fuchsia pink, peacock blue and lime green. Don't hesitate to wear bold and chunky accessories because that is the demand of the latest trend. Although the accessories are a part of Pakistani fashion culture especially with the traditional outfit. Ladies in Pakistan have a fair idea about the fashion trend as well as what will suit them.Trends are easier to follow in Pakistan because Pakistani markets have a variety that is found nowhere in the entire world. If you like something which is on the top of the fashion trend list then the simplest way is to get the material and get it tailored, if it turns out good you have succeeded in your aim.
Pakistani fashion now includes a touch of western outfit although the colour spectrum that Pakistani trend follows is way different from the western trends because of the variety of seasons and customs. Obviously our weddings and family dinners are done in a different manner than what they do so the clothes we wear for our formal, semi-formal and casual occasions are different from theirs but a beautiful fusion of western trend in out Pakistani fashion is now seen which makes our collection of designer outfits more innovative and interesting.
Women in Pakistan have always been more enthusiastic when it comes to embellishing their outfits, Pakistani wedding wears are the most beautiful pieces ever seen in any fashion trend for brides.
Street fashion trends in Pakistan are also very innovative now; it's interesting how people have started taking interest in the fashion trends and come up with the innovations which marks individuality in the fashion trend for everyone.