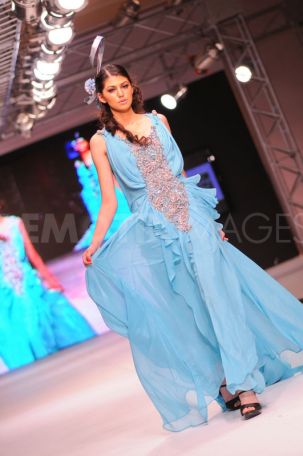 Islamabad Fashion Week, which finally comes to end with glistening lights and happy faces, seems to have turned the fashion fever on with its spell-bounding arena of fashion and glamour. Though the three days of fashion extravaganza revealed some of the greatest creations of Pakistan, yet there were some broken expectations among the audience.
The first day of Islamabad Fashion Week, as i would call it was plagiarism-laden with nothing quintessential Pakistani but quality-less cute creations that seemed to be pulled right out of H&M, NY and Company. With Fashion designers Zeeba and Zoe, SNS and Envogue, the designs lacked originality, imagination and creativity. It was just a mere duplicate of London, Milan or Paris Fashion Week. A place where there is a need to show real Pakistan and its beautiful culture instead it was all full of as Tommy Amin Jaan, a housewife said, 'senseless, horrible and tacky creations! The only saving grace was Ammar Belal, who showcased his brand's strength of designing impeccable and stylish clothes for the 'dandy' in all men.
As the Islamabad Fashion Week moved forward, it got better and better, as the second day of Islamabad Fashion Week was no doubt a heart throbbing event imbued with defiant creativity, imagination and originality, The fashion designers including young and talented Bisma Ahmed, who enthralled the audience with her Swarovski crystals embedded tissue paper dress, Lawrencepur, Gujranwala Institute of Fashion and Rehana Saigol. All the designers' particularly Rehana Saigol undoubtedly enchanted the audience with their tradition-filled-modern creations!
The third day of Islamabad Fashion Week saw much more creativity than the first two days. The event showcased three prêt shows by Shaiyanne Malik, Bareeze (Chinyere) and Iqra University, along with a couture collection by Kamiar Rokni. The decor was remarkable, with tastefully decorated candelabras on the sidelines.
Islamabad Fashion Week might have started with little technical problems and unspectacular qualities, but as it progressed, became much dazzling with a fun-filled doze of tradition, style and creativity!