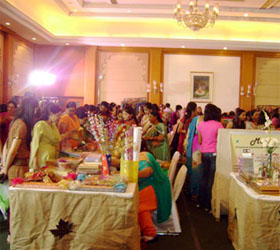 Kersi Dubash of Nazakat Collection after exhibiting his sparkling collection of attire and accessories with all beauty and style in Lahore rocked around capital city Islamabad  last week. The collection exclusively based on Indian theme.
A weeklong exhibition by Kersi Dubash of Nazakat Collection at Jacaranda Guest House containing captivating variety of Indian dresses like Indian saris, shalwar kameez, jewellary and bags continued to attract large number of fashionistas especially women there in Islamabad that was supposed to end on 22nd January, Saturday.Fashion designer Kersi Dubash having a deep aesthetic sense of designing clothes and accessories is displaying a wide range of exclusive creations in Pakistan since over a decade. This time too he presented an exceptional collection of Indian Saris, antique Parsi Garas, Gara borders, Gara shalwar kameez suits, Tancholi, French chiffons, Lucknow saris, Lucknow shalwar kameez suits, Kantha saris, pure cotton saris, Satya Paul Crepe De-Chine Sari's, shalwar suits and fancy evening bags here that sold like hot cakes. He also plans to showcase them in Karachi and Peshawar after Islamabad as well.
In Islamabad, Kersi Dubash under his brand name 'Nazakat Collections' coming from Mumbai not only showcased traditional Indian Jewellary both artificial and gold coated in luscious color combinations and trendy designs but also brought a timeless transition from Indian Banarsi wear and Lucknowi formal and casual wear to delicate wedding saris and dinner wear.
The attires and accessories presented at Kersi Dubash exhibition were magnificent in cuts and material with all saris and dresses woven in different styles and patterns. The material embellished on his collection was unique in depiction as most of the saris presented were handily crafted and embroidered, traditional sari blouses there were adorned with pearls, crystals, beads and sequin works to make them appealing and cultural.
It was not all the reason that talented Kersi Dubash exhibited his creativity in Islamabad but it was his utmost affiliation with culture and cultural silhouettes that made him appear there as he is the designer who offers something really different, stylish, elegant and classy. He endeavors to bestow fashion women with best of clothing pieces and accessories that's why selects extravagant pieces from different manufacturer and brings them in Pakistan once or twice a year having huge number of lovers, fans and clients here.
Nazakat Collection by Kersi Dubash is the name of perfection where creations meet with creativity and style and is therefore most demanding for Pakistani women.