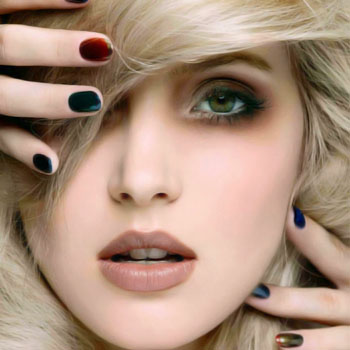 With the advent of winter season, women are adopting smart, sexy and darker tones of makeup, and when it comes to nail colours, here are some of the latest colours of winter 2011.
Fashion trends in nails colour for this winter 2011 are no exception.  The top nails colours are dark, sparkly and attention getting!
Black: This winter, black dominates the fashion trend in colours and even in nail colours and most women are opting for it. Black nails are still in and it is easy to swipe a coat of black polish on to get you by next appointment.
Green: They say go with the green, shades of green are all popular ladies and fashion trends in typically dark, light green shades are the best nail colours of winter 2011. Light jades, primary greens and deep emeralds are all a go of this season.
Navy: Women do not forget to play with navy nail colour as it brings out the winter essence and stylist recommends this. This winter 2011, things are different. The navy polishes that we are seeing would definitely give black a run for its money.
Ruby: Women! are you ready to glow with fiery ruby as I must say jewel tones in general are a trend this season. Sapphire, emerald and ruby hues are all super stylish especially when they're taken a hue darker, so check out the fashion trend this season!
Metallic: Metallic is ready to make its mark in the winter 2011 as it polishes your nails beautifully with silver, gold, bronze and copper, so make this fashion trend a 'must part' of your winter wardrobe.
Grey: Grey might give you an impression of dull, but it compliments to the winter season's top colour purple. Match it with purple and go for a brighter, bolder colour to spice up your calm tones of nail colours.
Burgundy: One of my favourites, ladies! The nail colour enhances the richness of winter 2011, so go for the darker shades and you would love wearing it on winter parties.
Brown: Are you ready to play with chocolatey shades of brown, this winter 2011, so follow the fashion trend and be the 'belle of the ball.'