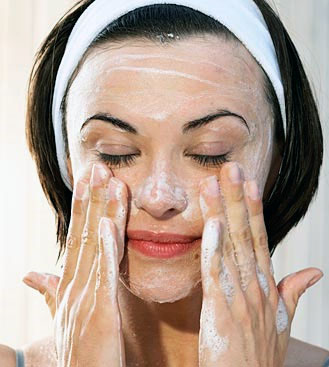 Wedding along with a huge change in girls' life brings with it some consciousness about her because everyone wants to look extraordinary on this special day.
Few years ago the wedding season used to be in normal seasons, but now weddings take place throughout the year because of these luxurious wedding halls where temperature is totally controlled. Brides are also not bound to wear red or dark colours on their wedding day, so it's very pleasant to see brides wearing light colours and looking fresh. Only problem girls' mostly face during this important time is facial skin care.Brides are generally so confused and conscious that instead of going to a proper beautician, they tend to gather all sort of homemade remedies, which end up having a more negative effect on their glowing skin. Girls try to use every cosmetic that promise to give them a beautiful and fairer skin colour that doesn't happen in reality. Most of the times brides have glowing skin complexion before wedding, but on the main wedding day mostly brides have pimples or blemishes on their skin. When you ask them about the cause, they will tell you that their friend or relative suggested them a cream or homemade product for facial skin care, which ruined their skin.
Before your wedding don't use such cosmetics or homemade remedies prescribed by everyone around you. Always consult a beautician or skin specialist before applying anything on your skin.
You can just use a good quality cleansing lotion or an astringent with a good toner, which suits your own skin type. The one your friend is suggesting might be good for her skin and not necessarily for yours, as we all have different skin types and these products react differently on every skin.
Women are so fond of facials but surprisingly brides get them done a day before the wedding which is a main reason of facial skin problem on wedding day. Your skin pores get disturbed and you end up looking like a pancake after getting the makeup done. The open pores don't let the base settle in. so it's better to get a facial done a week before and then after the wedding as at that time you really need a fresh look after all that heavy makeup.