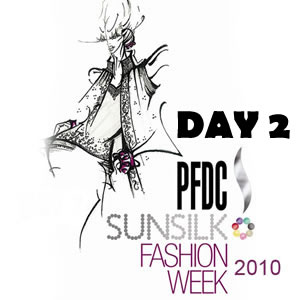 With a diversity of celebrities, models, designers and media in attendance, Day 2 of PFDC Sunsilk Fashion Week 2010 started with great excitement. The day opened with music icons Shahzad Roy and Hadiqa Kiyani walking the ramp for Asifa & Nabeel's collection "Romulus". The Lahore based designer duo's collection was divided into two parts; one that showed self assurance and the other that showed a pleasant surprise with a decorative element. Beautifully created, the prints were a whirlwind of light and dark colours draping symmetrically in the silhouette. This collection for women was a blend of chiffons and silks with Swarovskies, Zardozi and Beads.
Talking about their participation in the second PFDC Sunsilk Fashion Week the duo said "We are very glad to be a part of the Sunsilk fashion week being held in Karachi .The chair person Sehyr Saigol has put in all her energy to make it an event to be remembered.  PFDC has incorporated many big players who will support and facilitate the process, and big business is exactly what fashion is supposed to be."
The label Asifa & Nabeel has been established for the past 13 years and is well renowned and respected for their Prêt-à-porter, Haute Couture and Bridal lines. The brand currently retails across 3 of Pakistan's major cities as well as to an international clientele. Indeed their signature style is found in their flamboyant use of diverse fabrics and unique interplay of colors and cuts. The previous Fashion Week showcased Asifa & Nabeel's formal womenswear collection. Based in pure fabrics including chiffons and silks with fusion silhouettes, their collection reflects an amalgamation of vibrant embroidery inspired by the Kalash and Kafiristani aesthetic. This collection also drew from the Russian painter and graphic artist Wassily Kandinksy's painting 'Composition VII' in which an oval seems almost the eye of a compositional hurricane, surrounded by swirling masses of color and form which according to Art scholars, feels like an operatic outburst of pure painting. Traditional Pakistani threadwork and stones along with Dabka and Zardozi work were seen in this collection.
Next on the Karachi runway was the Karachi based designer Nida Azwer enthralling the audience with her womenswear Prêt-à-porter collection entitled "Auspicious Musings". The collection was a vibrant celebration of the undeniable human essence – boundless energy through bright colors combined with the age old auspicious Chinese motifs helping to light up the night and day with positive energy. The designs were transcendently playful, a pleasing vision of symbols representing happiness, peace, contentment, good fortune, character and nobility. Characterised by an audacious array of bold colors made this one of Nida's brightest collections ever. Talking about her collection the designer said "I have drawn the artistic influence for this collection from old Chinese patterns but the vision behind it was to allow it to create an aura of harmony and prosperity and to radiate positive energy in light of these troubled times Pakistan has recently seen."
Nida has been designing and working in fashion under the aegis of her eponymous label since 2005, only one month after she graduated from the prestigious Indus Valley School of Art & Architecture. Her label includes Prêt-à-porter, Haute Couture and Bridal lines; Nida herself was nominated for a coveted Lux Style Award for Best Emerging Talent in 2008.  In 2009, she held her debut solo show in Karachi to massive acclaim from journalists and fashionistas alike. The Nida Azwer design label has come to be recognized for the designer's love of more classic and vintage design elements including the skilled infusion of traditional craftsmanship such as 'tukri ka kaam', 'rilli' and 'kantha' work into contemporary fashion silhouettes. This has been manifest in the collections she showcased at her debut solo show and across various fashion weeks and exhibits. Nida Azwer showcased her womenswear Couture collection "Timeless Horizons" at the debut PFDC Sunsilk Fashion Week in February 2010.
PFDC Sunsilk Fashion Week 2010 believes in supporting aspiring designers and in this regard students from one of the leading fashion schools showcased their respective collections. The finale of the first act was by the PIFD students based on individual themes. The students showing include Ahmed Mazhar, Hanan Pasha, Huma Zia, Junaid Mubashir, Khawaja Hammad-ur-Rehaman, Maria Mahfooz, Murk Bughio, Saadia Khan, Sidra Raja, Sundas Nawaz, Sundas Sarshar, Umama Noon and Usama Arif.
The preeminent Pakistan School of Fashion Design (PSFD), established in 1995, has now been transformed into a larger organization and renamed as Pakistan Institute of Fashion and Design (PIFD). The PIFD student-led fashion ensembles showcased at the Fashion Week were designed and finished by students based on individual themes and received a long applause by the house-full audience. Also, the PIFD had previously shown their collection at PFDC Sunsilk Fashion Week.
The young students were followed by the talented Khadija Shah bringing her brand Élan. Élan's collection for Fashion Week was a dusky and subtle color palette with minimal embellishment resulting in understated pieces that yet made a statement. Featuring feminine and fluid cuts, jeweled necklaces and dramatic motifs, Élan presented a collection of evening wardrobe staples that no woman could go wrong with and which didn't require too much accessorizing. The fabrics used were satin, chiffon and net achieving flowing silhouettes that gave the clothes a light translucent look. Overall, the clothes had a sophisticated yet sensual feel. Talking about the collection Khadija Shah said "The collection embodies my love for understated glamour and elegance."  TV personality Saima Mohsin walked the ramp for the Élan.
Élan is a relatively young fashion label having been launched six years ago by Khadijah Shah. She is respected for her combination of intricate embellishments, flattering silhouettes and attention to detail in the construction of each outfit. Indeed each collection is conceived with glamour, elegance and versatility in mind. Khadijah Shah inherited her design aesthetic from her mother Aneela Shah, who had a small atelier and a loyal clientele for years before Élan was formerly launched. In a short span of six years, Khadijah has formalised and expanded the label and created an effective and influential place for Élan in the fashion industry.
In February of 2010, Élan showcased a complete collection of both Eastern Prêt-à-porter and Haute Couture inspired by the artist Saeed Akhtar and his latest works. The colour palette was inspired by those of the sand, trees, sun, the evening desert sky and the colours in which tribal women are most often seen dressed. The pieces featured ethnic embellishment with an emphasis on glass, maroori, zardozi and sitara work and fabrics including hand loom silks and chiffons.
Following Élan was young Prêt focused brand Muse who showcased their Spring/Summer 2011 women's Prêt-à-porter collection for Fashion Week which was inspired by a make-believe world – a designer's apartment surrounded by muses and cocktails till late into the night. The collection consists of fabrics such as fine cottons and silks combined with the classic paillets, beads, pearls and laces. Talking about their participation in the PFDC Sunsilk Fashion Week the duo said "We think that it is a good opportunity for us to reach out to a broader audience and showcase our company and our collection."
Launched in early 2009 by Moeed Yousaf, Muse is a new contemporary womenswear fashion line. The label's philosophy is to make clothes with modern lines using luxurious fabrics and hand-embellishment with motifs inspired by contemporary design. The idea for Muse was born in Paris, with a desire to bring a new aesthetic to Pakistan. Upon his return to the country, Moeed teamed up with Indus Valley School of Art and Architecture graduate Faryal Aftab as co-creative director and together they launched their flagship Muse outlet in Lahore and also stock in Karachi at the PFDC's multi-brand retail outlet. Muse showcased their Autumn/Winter 2010/2011 womenswear Prêt-à-porter collection at the debut PFDC Sunsilk Fashion Week in February this year, inspired by the aesthetic of the 1940's era which favored tailored separates, high-waisted pants and skirts and glamorous belted dresses.
Muse was followed by Zara Shahjahan's womenswear Prêt-à-porter Spring/Summer 2011 collection for Fashion Week entitled "Represent", designed for the modern Lahori woman who is proud of her culture and heritage – who on one hand can be modern and on the other hand be as desi as one can get. The collection was a combination of light linen with a perfect blend of heavy embroideries but slightly embellished. Talking about her collection the designer said ""The philosophy behind Zara Shahjahan is to help women feel comfortable and confident through the clothes that they wear".
Zara Shahjahan is a graduate from the National College of Arts and has built a niche clientele that understands and has the ability to appreciate design and pattern making. With a background in miniature painting, she is Pakistan's first designer who has the expertise to make her own motifs. Her earlier lines of Ghaara embroidered Saaris and sheesha work were so well received by the industry that in a short span of a few years Zara Shahjahan has become a name to be reckoned with. Zara Shahjahan's Prêt-à-porter line is now available in all the major cities of Pakistan. The recent presence of the label in Dubai has established a new standard of understated elegance: easy fit garments, precisely cut and immaculately tailored.
The finale of Day 2 was by industry stalwart Sehyr Saigol of "Libas". Sehyr Saigol's PFDC Sunsilk Fashion Week collection takes inspiration from the pristine beauty of Swat. The rivers, the foliage, the winding roads and the resilience of the people from the valley.
Sehyr Saigol is a renowned international fashion designer, the co – chairperson of the Pakistan Fashion Design Council and has been in the business of fashion for more than two decades. She designs under the label of 'Libas' and continues to set new fashion trends not only in Pakistan, but also in India, the UK, the USA and the Middle East.  Mrs. Saigol has long been associated with philanthropic causes in the past and given the socio-political conditions of the country, she has worked tirelessly to aid in the rehabilitation of the IDPs and is now mobilising Pakistan's fashion industry to help the victims of the devastating floods in Pakistan.
The end of the show took an emotional turn as the "Make-A-Wish Foundation" granted a young girl's wish to become a designer and a model and to walk the ramp. Arranged by Catwalk Productions, the girl, whose name is Khadija, walked with top models wearing a Libas outfit and looking as confident as the other models. The Make-A-Wish Foundation has enriched the lives of children who have life-threatening medical conditions through its wish-granting work.
The PFDC Sunsilk Fashion Week is being produced by Catwalk Productions and styled and choreographed by the creative team at Sabs The Salon and Khawar Riaz, event coordination by the R Team and public relations by Lotus. Further, Little Black Book serve as business consultants, Latitude as buyer focused marketing consultants and Asim Naeem as a technical consultant.