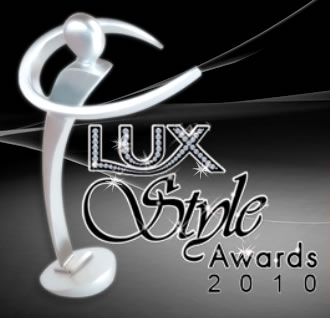 Monday 1st November saw the star studded, glamour-filled LUX style award ceremony 2010 at a local hotel in Karachi.
Unlike previous years, this LUX style awards ceremony was kept low profile due to the recent super floods in Pakistan. The grand event was hosted by model cum actress Meera and comedian Sami Shah made his debut as a LUX style award host. They both did a wonderful job while creating moments of soft laughters with their jokes and light Gupshup.
Aamna Taseer, wife of Punjab Governer Salmaan Taseer was the chief guest of the ceremony and presented awards for Best director to Syed Noor, while Saima and Shaan got the award for Best Female Actor and Best Male Actor respectively.As for Music director, there is none other than ultimate producer Rohail Hayyat for Coke Studio. After all Coke Studio has managed to invent artists, songs, introduces new artists and has refined how music is produced in this country. Hats off to Rohail Hayyat!
Mekaal Hassan Band had a mind blowing night at LUX style awards with their Saptak, which won them Artist of the year and the singer of the year award.
Legendary television actress, Roohi Bano, who is famous for her outstanding performances in plays such as Darwaza, Zard Gulab, was awarded Lifetime Achievement Award with standing ovation and a show reel which brought back some passionate and fiery memories of her golden years in drama.
The lady of the evening was the gorgeous absolutely ravishing Fayeza Ansari, dolled up in beautiful red raffled skirt by designer Amar Sarfaraz, she won the award for Best Fashion Model leaving behind Cybil, Iraj, Ayyan, Amina Sheikh and many other beauties.
Famous photographer and judge of the contest Tapu Javeri, while talking to media before commencement of the ceremony, said that although the event is being held on a small scale but the matter of pleasure is that it is being organized in times when terrorism is spreading in the country.
Best Film: Nach kay Yaar Manana (Producer Syed Noor) (Winner)
Best Film Actor:  Shaan for Nach Kay Yaar Manana (Winner)
Best Film Actress: Saima for Nach Kay Yaar Manana (Winner)
Television Best TV Serial (Terrestrial)
Jee Chahta Hai on ATV
Jinnah Kay Naam on PTV
Kaghaz Kay Nao on ATV
Khuda Zameen Say Gaya Nahin on PTV (Winner)
Rani on PTV
Best TV Actor (Terrestrial)
Ahsan Khan for Mohabbat Yun Bhi Hoti Hai on ATV
Ayub Khosa for Khuda Zameen Say Gaya Nahi on PTV
Noman Ijaz for Kaghaz Kay Nao on ATV (Winner)
Best TV Serial (SATELLITE)
Aashti on Hum TV
Doraha on Geo TV
Ishq Junoon Deewangi on Hum TV (Winner)
Ishq ki Intiha on Geo TV
Teri ik Nazar on Geo TV
Best TV Actor (Satellite)
Fahad Mustaffa for Veena on ARY
Humayun Saeed for Doraha on Geo TV
Humayun Saeed for Ishq Junoon Deewangee on Hum TV (Winner)
Best TV Actress (Satellite)
Resham for Aashti on Hum TV
Sanam Baluch for Noorpur ki Rani on Hum TV
Sania Saeed for The Ghost on Hum TV (Winner)
Sara Chaudhry for Teri Ik Nazar on Geo TV
Sonia Rehman for Doraha on Geo TV
Best TV Director (All Channels)
Adnan Wai Qureishi for Aashti on Hum TV
Baber Javed for Ishq Junoon Deewangee on Hum TV
Kashif Nisar for Khuda Zameen Say Gaya Nahin on PTV
Mehreen Jabbar for Doraha on Geo (Winner)
Tariq Mairaj for Jinnah kay Naam on PTV
Best TV Writer (All Channels)
Asghar Nadeem Syed for Khuda Zameen Say Gaya Nahin on PTV (Winner)
Fizza Jaffri for Veena on ARY
Kashif Nisar for Jinnah kay Naam on PTV
Seema Ghazal for Aashti on Hum TV
Zafar Mairaj for Darwaza on PTV

Music Best Artist
Mariam Kizilbash
Meekal Hassan Band for Saptak (Winner)
Overload for Pichal Pairee
Rahim Shah
Shiraz Uppal
Best Music Video Director
Ahsan Rahim
Bilal Lashari for Chal Buleya by Meekal Hassan Band
Farhad Humayun for Mela Kariya by Overload
Sigauk Haved
Zeeshan Pervaiz (Winner)
Singer of the Year
Imran Khan
Chal Buleya by Meekal Hassan Band from Saptak (Winner)
Zain ul Abedin
Rahim Shah
Shiraz Uppal
Best Music Producer
Meekal Hassan Band for Saptak Farhad Humayun for Pichal Pairee, Overload
Shiraz Uppal for Ankahi
Shani and Kami for Rahim Shah
Rohail Hayatt for Coke Studio Sessions (Winner)
Fashion Model of the Year (Female)
Aamina Sheikh
Cybil Chowdhry
Fayeza Ansari (Winner)
Model of the Year (Male)
Abdullah
Arsalaan
Iffi Zafar (Winner)
Rohail Peerzada
Best Emerging Talent (0-3 years)
Ayyan Ali (Model)
Ayaz Anis (Photographer)
Feeha Jamshed (Desinger) (Winner)
Raana Khan (Hair and Make-up)
M. Mubarak (Model)
Best Fashion Photographer
Fayyaz Ahmed
Guddu Shaani (Winner)
Maram Abroo
Rizwan ul Haq
Best Hair and Makeup Artist
Khawar Riaz
Nighat at Deeplix
Rizwan Khan (Winner)
Achievement in Fashion Design – Pret
Deepak Perwani (Winner)
Kamiar Rokni
Khaadi Khas
Sara Shahid at Sublime
Sonya Batla

Achievement in Fashion Design – Luxury Pret
Best Retail Brand
Crossroads
Generation (Winner)
Khaadi
Best Menswear Designer
Amir Adnan
Hassan Sheheryar Yasin (Winner)
Fashion Lifetime Achievement
Mirza Khurshid Masood

Unilever Chairman's Lifetime Achievement Award
Roohi Bano