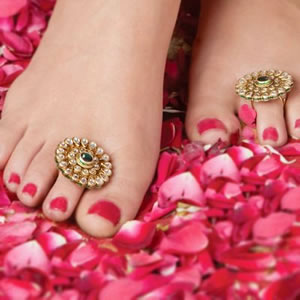 Ever since, time immemorial Pakistani women have loved to adorn traditional ornaments especially, toe rings. There is an enormous variety of jewellery worn by woman, which reflects her customs and traditions to a great deal.
Toe ring is a small circular band of metal which is worn on the toe. Women of today and young girls love to decorate their feet by wearing these fashionable toe rings on the second toe of each foot. Traditionally toe rings are mainly made of silver.
These fashionable toe rings are a symbol of marriage and considered to be a jewellery of great social significance and must wear for every woman.
To a certain extent, woman of traditional culture and religious beliefs are prohibited to wear toe rings. Though in the present age toe rings have become a fashion ornament, but the Pakistani girls still refrain from wearing toe rings before marriage.
In today's times, toe rings are no more used as traditional jewellery. They are found even in the western countries and have become a great fashion accessory of the modern era. In the western culture toe rings are mainly a fashion statement to decorate the feet.
Here are few tips for wearing toe rings:
As you will be wearing the toe ring for days or weeks at a time, choose fashionable toe rings very carefully.
Buy this jewellery which can bend or flex according to your toe size.
The toe ring you choose should be light in weight.
Toe rings are a great way to show off beautiful feet and have become very popular as costume jewellery! So buy one now!