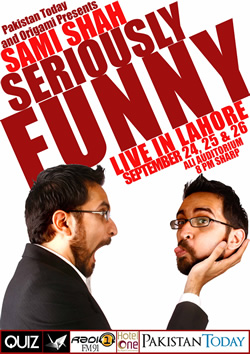 Lahoris, Get ready for a truly frolicsome, freaking hilarious, fun filled ride this Saturday, September, 24th, 25th and 26th for renowned comedian, Sami Shah is coming to Lahore for the first time.
Sami Shah is the first English stand-up comedian of Pakistan; He has had several tours across Pakistan, performing in theatre venues and colleges. In addition to that, Sami has also been a member of the improvisational comedy troupe "Black Fish"
The Show will start at 8pm. at Ali Auditorium, Ferozpur Road, Lahore.
Lahoris, we look forward to your presence!