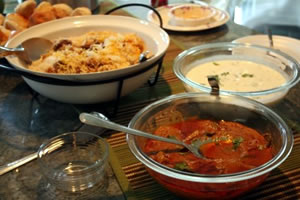 Eid-ul-Fitr is a time to rejuvenate and enjoy with friends and families. It is a time to celebrate the closing spirit of Ramadan to the fullest and thank Allah for His blessings. One of the most important ingredients of Eid is making special cuisines.
The most popular festivals of Muslims is Eid, a time when Muslims go to Mosque for Eid prayers and meet relatives in family get together. During such times, Muslims sit and relish tasty dishes while spreading the message of unity, happiness and love all around.
The occasion of Eid-ul-Fitr is incomplete without particular dishes which females cook on the Eid day. These dishes are cooked in bulk and aim to fulfil the tasty buds of friends and relatives who come and visit home on the Eid Day to greet Eid wishes.
The preparations of Eid-ul-Fitr, cuisines take place before hand, so that by the time the guests arrive, ladies, children and others are ready to greet their loved ones.
Some of the most famous and common cuisines made on Eid are a combination of sweet and spice. It includes, Chicken karahi, kebabs, Beef stew, roast, Murgh mussallam, Biryani, Mutton korma, haleem, Lemon pepper steak and so much more.
If you are thinking about making Haleem on Eid,
Then here is the recipe for this cuisine.
Clean and marinate (300 gm) boneless mutton with half of ground paste of ginger (2), garlic (6-8 flakes), green chillies (20 gm) and salt for an hour.
Pressure cook, the soaked wheat (200 gm) and marinate the meat for about 45 minutes.
Mince and grind to a fine paste, in a pan heat oil, add the finely sliced onions (3 sliced), fry till brown, add the garam masala (2 tsp).
Add the ground paste and keep stirring on slow flame, till the mixture leaves the sides of the pan.
Serve hot, with lime wedges.
Eid-ul-Fitr, is incomplete without Eid deserts the two known dishes are seviyan and sheer korma.
These dishes are easy to cook at home. For seviyan, you take two tbsp of rice and soak them in water for few hours, after removing water, grind rice into a smooth paste. In a non-stick saucepan bring two cups of milk.
Over a moderate low heat add rice, three tbsp of sugar, one tsp of green cardamom and stir constantly till milk turns thick. Now add ½ kewra, almonds and put in serving bowl and chill. Garnish with silver or gold foil paper (varak) and serve it on Eid.
There are a number of cuisines that are famous on Eid, cuisines. The Eid Day is the day to enjoy and celebrate the occasion.