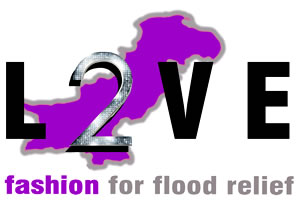 After raising 2.1 Million Rupees last month, Fashion For Flood Relief returns with its second fundraiser sale being held at the Royal Palm Golf and Country Club, Chameleon, in Lahore, on 8th September 2010 from 4 PM – 10 PM. Expect designer clothes for all ages, home and personal accessories, luxury furniture, beauty products and much more, all at rock bottom prices! A PKR 300 entry fee will be charged at the door. All proceeds from the sale will be donated to the Jazba Foundation.
The Jazba Foundation was initially created to provide assistance and relief to the huge number of people displaced from the northern part of the country as a result of the war against terrorism. With the help of generous donors, Jazba Foundation was able to generate cash funds worth over PKR 10 Million, which were spent in providing continuous relief and assistance to Pakistan's Internally Displaced Persons. With its primary focus on Southern Punjab and Khyber Pakhtunkhwa, Jazba Foundation has once again mobilized its resources for flood relief. The Foundation itself along with the aid of initiatives such as Fashion for Flood Relief together have raised approximately PKR 2 Crores for flood relief thus far.
Fashion for Flood Relief 2 is being organised by Lahore's fashion, event and PR industries respectively, which have united to stage this event. Organisers include Nickie Nina, Karma, Maria B, Saira Ahsan, HSY, Saniya Sajid, Yousaf Shahbaz, The Royal Palm Golf and Country Club, Hamza Tarar of Casa Hamza, J&S3, Purple Arts and Communications and QYT with Public Relations by Lotus.
Date: Wednesday, 08 September 2010
Time: 4 PM – 10 PM
Venue: Chameleon, Royal Palm Golf & Country Club
Entry: PKR 300