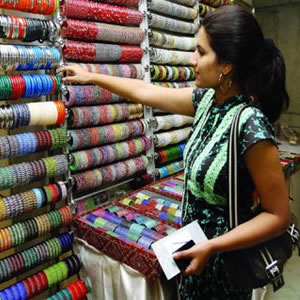 Ramadan seems to leave its spiritual impact on every Muslim and Eid is a time when one fully enjoys the blessings of Allah and celebrates festivity to the fullest. Preparations of Eid, involves lot of cooking, shopping and celebrations at homes and outside.
Eid-ul-Fiter is coming closer and shopping is gaining momentum as you find men, women and children rushing to market to buy clothes, jewellery, makeup, shoes and so much more. Preparations of Eid, involves a lot of excitement and festivity for the Muslims of all ages. It is a time, when every Muslim gets an opportunity to relax, dress and eat as much as possible.
Market and shopping centres offer variety of new collections in their clothing lines, shoes, makeup and bags etc. Despite price hikes, people run, for shopping and enjoys iftar brunches. Whether you are headed for Alfateh, Anarkali, Defence, Shadman or Moon market, a period of unending joys fill up the sky and twilights are decorated throughout the city.
For Eid-ul-Fiter, the list of joys seems to touch the seventh sky three days before Eid when young girls, youth and women approach for shopping especially on Chaand Raat when ladies love to decorate their hands with Mehndi, buy colourful shoes like khussa, chappal and strappy heels. The colourful display of bangles on Eid adds vibrancy and style on Eid. It is the must ingredient of Eid when bangles gleam and rings which feel nice to every ear. Parlours for men and women are opened late night on the occasion of Eid.
Jewellery on Eid among girls is not only limited to bangles but involves earrings, bracelets, necklace, pendant sets and you name it. Boys and girls prefer to buy shoes from Hush Puppies, Bata, Services, Milli, English, Mr Big Man, Cobblers, Urban Sole on Eid.
Preparations of Eid, also offer jubilation for housewives also who love to cook chicken roast, cutlets, kebabs, Biryani, chicken karahi etc on Eid and their guests relish with delight on certain occasion. The house is decorated with flowers, lights on Eid-ul-Fiter.
Hotels and Restaurants offer special Eid Deals Packages on Eid which lasts for a month and so on. Youngsters and families visit coffee shops, hotels etc to celebrate the joys of Eid.
People give fitrana, sadqa, zakat etc on Eid and help those in needs. Tailors and clothes shops are kept open till late at night with a hope that ladies especially get their clothes on time.
Eid cards, jewellery, henna stalls continue to add brightness on Eid. Markets including Rang Mehal, Islampura, Pakki Thathi, markets of Auriga Centre, Ichhra Bazaar, Baghbanpura Bazaar, Sadar Bazaar besides Anarkali, Liberty, Main Boulevard, Model Town Link Road, Y-block Defence are crowded with people for shopping.
So what are you waiting for, start shopping!