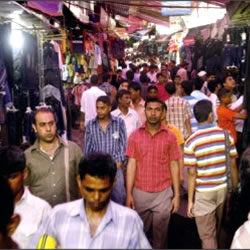 Ramadan is the best time to shop for boys as there is a wide variety of casual trendy clothes and footwear available in the market.
Unlike girls, boys are not fond of shopping around all the time. But when it comes to shopping in Ramadan for Eid, boys are even more efficient than girls. Boys do shop a lot in Ramadan. And let me tell you guys Ramadan is superb for shopping. You will find a wide variety of trendy and casual clothes, shoes, perfumes and especially shalwar kameez. The best time for shopping in Ramadan for boys is just after Ifar because it has two advantages. Firstly, the markets are not crowded that much and secondly it's good to have a little walk after eating much in Iftar. There is one more advantage of shopping in Ramadan for boys that almost everything is on sale in this month. So boys go out to the market and make the most of it.
In addition to that, boys can go for shopping in Ramadan to places like Outfitters, Cross Roads, and Stoneage etc. They can enjoy incredible discounts on different types of clothes and footwear. Shopping in Ramadan is fun because there is an excitement of dressing up for Eid and meeting with relatives and friends.
Shopping in Ramadan for boys add up to the glory of Eid and makes it even more spectacular. When it comes to clothes, there is no end to it. Flourishing fabrics, fascinating colours, and stunning add-ons are some of the characteristics of typical shopping in Ramadan. In Ramadan, boys have a variety of clothes to choose from like Kurta pyjamas, churidar kurtas and mostly boys like embroidered kurtas for Eid. Shopping in Ramadan for Eid is highly anticipated by boys.