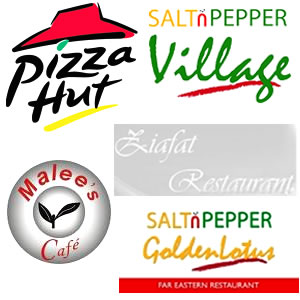 Ramadan always brings to us; like the scrumptious & tempting new food items. In this scenario, all most all the restaurants offer a variety of different packages, on Sehri & Iftari timings.  Here we have a list of special Ramadan packages of some of the Lahore's finest restaurants.
At Salt'n Pepper Village

Iftar cum Dinner Buffet at Rs. 850/- (inclusive of tax)
Sehri Buffet is available only on Saturdays and Sundays at Rs. 490/- (inclusive of tax)
At Pizza Hut
Iftari: Iftar and Dinner offer has all the Pizza, Salad and Pepsi you can have in Rs. 599 + tax = Rs. 700/-. This deal is available from Iftar timings to 9:00 pm plus this deal is for 'Dine in' only.
You have the choice to choose your Pan Pizza from Chicken Tikka, Chicken Fajita, Supreme and Hot & Spicy.
Sehri: Sehri deals are starting from Rs. 185/- + tax
At Golden Lotus

At Ziafat
Iftar cum Dinner Buffet at Rs. 580/- + tax = Rs. 680/-
This deal is from Iftar timing to 8:00 pm which become almost one hour. After 9:00 pm they are giving a Snacks cum Dinner offer at Rs. 290/- + tax = Rs. 340/-. This snack cum Dinner offer will be active in two sessions; first from 9:00 pm – 11:00 pm and then 11:00 pm – 1:00 am.
At Malee's Cafe
Iftar and Dinner Buffet at Rs. 850/- + tax = Rs. 995/-
They are giving up to 30 dishes including Pastas, Steaks, Continental, Chinese and Malee's special B.B.Q food with wide range of Salads and Desserts.