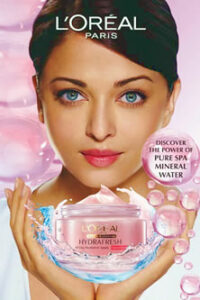 L'Oréal Paris, the world's largest beauty brand, extends its technical expertise within their acclaimed Skin Care portfolio by introducing the New Hydrafresh Aqua Cream and Facewash. Indeed, this launch heralds another innovation within their revolutionary Skin Care research and development.
Water is essential for not only providing hydration to our internal organs, but also for maintaining skin hydration. It is important to keep skin moisturized because the sun's UV rays and pollution tend to damage the collagen structure that supports the skin, making it duller and more prone to losing its youthfulness if not properly moisturized. That is why it is important to protect the skin barrier. Without protective moisturization, skin tends to produce excess sebum that clogs pores and makes it difficult to breathe. Skin needs moisture regardless to which season it is and adequate hydration is an essential way to maintain skin vitality. For the first time L'Oréal Skincare Laboratories have created a formula with pure SPA water ,from the French Vosges Mountains, rich in essential minerals which helps to stimulate cells' vitality and strengthen the skin barrier for healthy hydration.
Introduced in Pakistan and simultaneously being launched in other countries, the New Hydrafresh Aqua Cream and Facewash is enriched with Hyaluronic Acid & Lipidure Lock-In Captors, a L'Oréal Paris Patented Technology and pure SPA water which helps to repair and strengthen the skin surface cellular armor to block moisture evaporation. Directly extracted from the French Vosges Mountain, this natural water is incredibly pure and rich in essential minerals: Copper [Cu++] known for its skin-healing and anti-inflammatory properties, Manganese [Mn++] known for its skin-healing and anti-oxidant properties, Calcium [Ca++] known to stimulate skin cohesion and Magnesium [Mg++] to help restore the skin barriers function.  This first of its kind formula also includes Vitamins B5, for its soothing and repairing properties making skin smoother and more luminous and Cg and E for their antioxidant properties.
The New Hydrafresh Aqua Cream provides intense hydration all day long that provides nutrition to the skin and locks in moisturize. Its unique "cream to water" texture melts into skin to deliver a fresh and light sensation, instantly skin is smooth and soft with no greasy effect.
The New Hydrafresh Facewash, enriched with Omega-CeramideTM to help compensate for normal to combination skin, gently cleanses, removing face and eye make-up, immediately soothes your skin and helps restore a perfect level of hydration to the skin to prevent dryness.
L'Oréal Paris New Hydrafresh Aqua Cream and Facewash is appropriate and advisable for women of all ages and is ideally used daily on a cleansed face. Priced at PKR 550 and PKR 375 respectively, the New Hydrafresh Aqua Cream and Face Wash is now available at all L'Oréal Paris counters across the country.