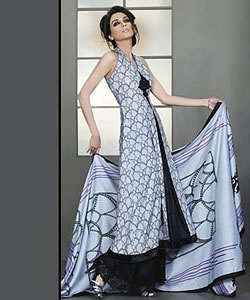 Ever since time immemorial dupatta has been used to cover the head, shoulder, back, breast and in some cases face also. It has come a long way starting from simple veil to a fashionable scarf. This accessory has added a perfect finishing touch to Pakistani dresses and western styles.
Dupatta, in Urdu called Orhani refers to covering. It is a veil which, is responsible for covering your body parts and represent a decent presentation of your persona in society.
This accessory is simply a length of cloth-printed, embroidery or plain measuring two and a half to three down the back or wrapped around the shoulder. Popularly known as dupatta, subcontinent women love to wear it by placing the middle portion of the accessory on the chest and the ends thrown over each shoulder.
Variations in dupatta styles are attempted only with shalwar kameez. If you are going on a wedding or attending a formal occasion, this fashion accessory can be worn with gharara, ghagra choli and sari by tucking hold at the waistband of the gharara. The end is taken over the breast to flow down the shoulder or taken over the head to rest across the other shoulder.
The long extension of dupatta is called chadder. It is responsible for covering your whole body. Women in their old age still prefer to wear this accessory as it is a symbol of traditional respect and reflects an Islamic lifestyle.
These forms of dupatta doesn't have to be old and ugly, the material used for them is of fine quality be it cotton, silk or chiffon. This fashion accessory gives tantalizing glimpses of the garment worn under it adding to its allure and beauty.
As a fashion accessory it is an amazing accessory, it looks graceful, elegant and breaks the monotony of the dress. Many Pakistani women prefer to buy suits by looking at dupatta first, chiffon dupattas are very much in with lawn suits and their price range from Rupees 1000 and above. A heavily embroidered or sequined dupatta decorated with a beautiful border is in.
A minor change in the way of draping dupatta can add new dimensions to the outfit.
It can be worn round the neck or with jeans as a sarong, turban or a sash the dupatta lends itself to imaginative dressing. Various known as the dupatta, orhni, chaddar-this headscarf or shoulder-scarf is also called the chunari in Gujarat and can be dyed in a single or multiple blend of colours.
Shopping centers in Lahore, Islamabad and other cities have shops that specialize in the selling of the various ranges of the dupatta. The latest in the market are the crinkled tissues, gold block-prints known as khadi-work in cottons, tinseled work on chiffons an, heavy silken brocades and dupattas in tanchoi, organzas and tissues.
So how about draping the dupatta round the neck and sing, huwa main urtha jay….