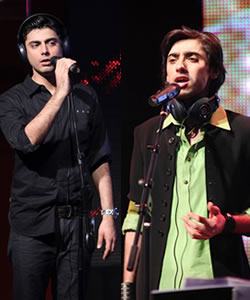 (Pakistan, 14 June 2010) After the much-awaited first episode of Coke Studio on 06 June,  the second session is queued to air on 20 June 2010. While the first episode centered on reason as the source and origin of all creative endeavours, the second session focuses on the force behind the motivational drive toward attainment — 'Will'. Indeed in the language of music, the passion to ensure realization is as important as its inception.
The five tracks featured in Episode 2 collectively reflect Coke Studio's will to embrace diversity in an ever widenly circle of inclusivity. Presenting three distinctively different flavours via contemporary pop-acts and two intense and uniquely dissimilar performances by Pakistan's treasured indigenous artists, these sessions symbolize the range and depth of the musical influences and inspirations at Coke Studio.
Making his first appearance this season, is the talented young singer Amanat Ali with his rendition of 'Aisha'.
Originally written in French and since translated into 12 different languages, Amanat performs the first known Urdu version of this internationally popular track on Coke Studio. Taking centre stage next are the Shah Jo Raag Fakirs accompanied by their unique five-stringed traditional instrument dhamboora. Led by Fakir Juman Shah, the Fakirs grace the Studio with a profoundly emotive rendition from the Shah Jo Risalo. A mutually inspired collaboration between Noori and Zeb & Haniya follows – a unique combination of tamed rebellion and serene sophistication. This light fusion track, 'Tann Dolay',  showcases a range of distinct vocals with a signature Noori compositional style. Entity Paradigm maintains the momentum on the set next, combining a wide array of influences on a uniquely individualistic version of Sajjad Ali's 'Bolo Bolo'. The episode ends with Rizwan & Muazzam and their traditional qawwal arrangement, delivering an improvisational free form 'Naina De Akhay', in evocative tribute to their uncle, the legendary Ustaad Nusrat Fateh Ali Khan.
So remain a part of the Coke Studio journey with 'Will', airing on Sunday, 20 June 2010 at 10:00 PM on television channels, radio stations and online, across Pakistan.
Coke Studio 2010 Episode 2 Airing Date and Time:
'Will', Sunday, 20 June 2010 at 10:00 PM – 11:00 PM
Featured Artists:
Amanat Ali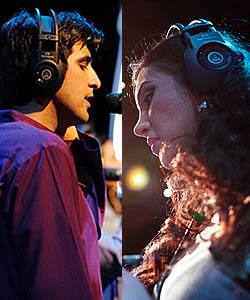 Aunty Disco Project [A.D.P]
Entity Paradigm [E.P]

Fakir Juman Shah
Karavan
Noori
Rizwan & Muazzam
Sanam Marvi
Tina Sani
Zeb & Haniya
House Band:
Asad Ahmed – Lead and Rhythm Guitars
Babar Ali Khanna – Dholak
Jaffer Ali Zaidi – Keyboards
Javed Iqbal – Violin
Kamran 'Mannu' Zafar – Bass Guitar
Louis 'Gumby' Pinto – Drums and Percussion
Omran 'Momo' Shafique – Lead and Rhythm Guitars
Saba Shabbir – Backing Vocals
Sanam Saeed – Backing Vocals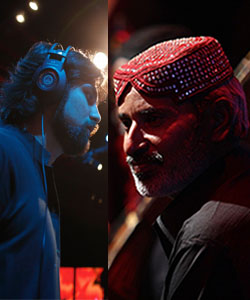 Sikander Mufti – Multi Percussions
Zoe Viccaji – Backing Vocals
Zulfiq 'Shazee' Ahmed Khan – Multi Percussions
Guest Musicians
Baqir Abbas – Flute
Sadiq Sameer – Rubab
Ali Kazim – Vocals
Noor Zehra Kazim – Sagar Veena
Credits:
Video Services
Channel Tek
Guitar Tech
Danial Hyatt
Hair & Make-Up
Beenish Parwez
House Band Wardrobe
Ismail Farid
Styling
Eva Shafique
Charmaine Hyatt
Project Photographer
Kohi Marri
Event Photographer
Rizwan-Ul-Haq
PR
Lotus Client Management & Public Relations
Creative Agency
Soho
Media Agency
Pak Media Com
Web Team
Creative Chaos
Design & Photo Management
Rafid Nasir
Content & Script Writer
Nadia Jajja
Set Visuals
Sheryar Hyatt
House Band Coordinator
Eva Shafique
Production Coordinator
Shahrukh Hayat
Video Production Consultant
Ahmar Raza
Assistant to Video Producer
Kashif Shah
Assistant-Behind The Scenes
Kamal Khan
Video Editing
Muhammad Bilal
Assistant Audio Engineer
Bilal Iftikhar
Assistant Producer
Zohaib Kazi
Technical Manager
Mir Naseeruddin Wasif
Behind-The-Scenes (BTS) Producer
Adnan Malik
Associate Video Producer
Adnan Malik
Video Producer
Zeeshan Parwez
Producers
Umber Hyatt
Rohail Hyatt