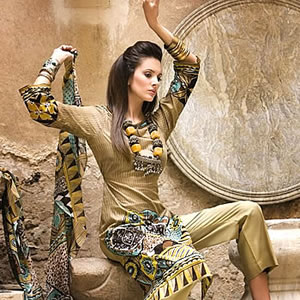 With the advent of summer season, shopping malls and designers in Pakistan have introduced variety of lawns. Wearing these  has become a style statement for fashion conscious people. Various lawn major cities of Pakistan offering variety in terms of colours, style and affordability.
Summer is here and so is the time to wear colourful and comfortable lawns. The summer trend is clearly evident in cloth shops and exhibitions held at different hotels. Various Fashion designers and models Sobia Nazir, Soniya Batlla, SanaSafinaz, Kamiyar Rokni, V9 of Vaneeza Ahmed, Salina Wardah and Maria B have come up with innovative patterns and colourful floral prints in their collection. Prominent model and actress ZQ (Zainab Qayyum) is also planning to launch her own collection this year.
Each designer offers variation in terms of cut, colour, design, silhouette and embellishments. Their price ranges from Rs 1500 and above.
According to a housewife, Mrs Salman, "designer lawns are trendy, their fabric is comfortable and they are made keeping in mind the tough season ahead." There are others who believe that designer lawns are expensive as compare to common lawn. "It is amazing to visit these exhibitions which have originality and simplicity in their styles but they are too expensive as compare to a common lawn which is available in Rupees 300 and up…"
Apart from these lawns, Gul Ahmed, Al Karam Fabrics, Lal, Firdous, Lakhani, Bareeze and others have also launched their collection by incorporating their abstract and floral designs with laces, sequins, intricate embroidery techniques to create a vibrant line. Their innovative and fresh approaches towards their collection with chiffon dupattas have created waves in general public.
Lawn in Pakistan is considered to be the best in the world. People who are in UK, USA, Canada and in other countries prefer to wear Pakistani lawn. Every year you can find the latest designs of Pakistani lawn in Pakistan. Some people also prefer to wear the Pakistani Lawn suites in parties, wedding ceremonies and in other functions.