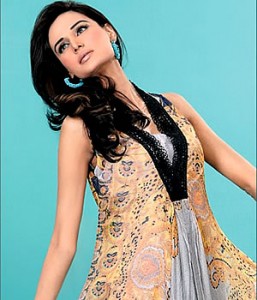 Summer are approaching as the craze for trendy lawn is on again.
It is summer time! Temperature is very soon going to go up to 42°C. Best wear in summer is clothes made out of Lawn. Romantic dressing of the 60's is coming in as a breath of fresh air this season in summer trend. Garara, Pishwaz, Angarkha, Chooli are being worn as everyday wear now as the new summer trend. Cotton Garara looks and feels great to wear.
For Office, it's either a nicely tailored lawn Shalwar Kamiz or an attractive lawn Sari. Short sleeves are preferred, dresses are now worn loose, Dupatta is no longer an element of veil but a delicate symbol of femininity. Jeans and fashion trousers are making there way in but the gorgeous look of long kames and qulut salwars are all the rage as well. Fashion is moving toward stylish and elegant femininity this summer with tops of floral prints is a summer fashion must have. Feel cool this summer with Lawn Prints and fashionable prints in lawn cotton are the first choice. Embroidery and crochet are nice touches to include as well. Leopard prints in lively colors are present in this summer trend, too. Bold, colorful prints make a fashion statement at any exceptional occasion! Satin shells are fashion testimonial which is must have for women of all body shapes and sizes.