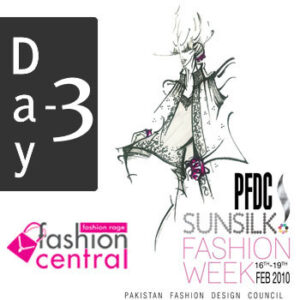 An amalgam of excitement, colour, glitz and glamour, Day 3 at PFDC Sunsilk Fashion Week opened with the husband and wife duo, Sarah Salman showcasing their Spring/Summer 2010 Prêt a Porter collection, aimed at today's women, entitled 'Beautiful Me'.  Based in a diversity of fabrics including chiffon, satin and lace, the 'Beautiful Me' collection focused on elegant and easy to wear silhouettes with embellishment mainly in swarovski, sequins and stones and a palatte of colours in an overall S/S 2010 look which is not age focussed but rather conceived for a mindset willing to experiment and have fun with their fashion.
Launched originally in 1997 with the vision of creating unique bridal wear, elegant formal wear and trendy ready to wear, Sarah Salman the brand has taken part in a variety of international exhibitions and fashion shows, the most recent being at Sheridan Manchester where the brand launched formal bridal wear for British Asians.
Designer Sarah herself, is a graduate in clothing & textiles from the College of Home Economics in Lahore. Indeed the Sarah Salman design philosophy focuses on treating each day as the birth of a new idea, new design and a new statement. Sarah Salman is currently retailed in Lahore, Karachi, Islamabad, Atlanta, Manchester and Wembley and will also be opening soon in Faisalabad.
"Our lines are about lots of colours carefully balanced, simple yet interesting cuts and traditionally handcrafted details merged in the contemporary context" says Sarah Salman about their collection.
Next to showcase was industry stalwart Rehana Saigol who showcased her womenswear couture collection, 'Beyond Ivory'. Staying true to her vision and philosophy of bringing back the saree to ones wardrobe, her collection presented variations on the traditional 6 yards of fabrics, contemporising and glamorising the saree. 'Beyond Ivory' was crafted on a variety of fabrics such as georgette, net, velvet and tissue and embellished with threadwork, crystals, beads, dabka, kora, and sequins. Model and Actress Juggun Kazim and Karachi-based designer Deepak Perwani walked the ramp for Rehana Saigol.
A pioneer in Jewellery design, Rehana Saigol launched her womenswear label less than two years ago, when she opened her first outlet in Karachi. Her vision has consistently focused on romancing Pakistani women back to wearing the saree. Indeed Rehana's own love affair with the saree has been one of the most enduring of her passions as she believes it to be feminine and its alluring in all its forms.
Rehana Saigol has said, "I am always experimenting with different styles of structuring the Saree, going beyond the traditional 6 yards of fabric"
Following Rehana's fashion showcase was designer Hajra Hayat who presented her fashion week formal womenswear collection entitled "The Power Line".  Inspired by the season and earthy tones it encourages, the collection's colour palette ranged from bronzes and golds to mustards and saffrons with thread work and embellishments in cuts that are structured and based in raw silks and chiffons peppered with Pakistani hand-woven fabrics. Lollywood actor Moammar Rana along with his wife walked the ramp for Hajra Hayat.
Hajra Hayat is a brand renowned for combining different textures and fabrics merging together to form unique creations. Indeed her brand philosophy focuses on the bold and the beautiful; for those who believe looking glamorous is their right. The fashion house is well regarded for their work as couturiers and for their bridal collections. The brand has shown both locally and internationally and indeed prides itself on detail in design being a cohesive factor of all Hajra Hayat lines.
The designer has said, "At Hajra Hayat inspirations always come from the confident yet elegant woman of today who embraces her femininity and still maintains a strong sense of her presence"
Closing for Day 3's Act 1 was Nayna who showcased their formal collection entitled 'Timeless Classics'. The inspiration behind the collection is rooted deep within Pakistan's cultural heritage and the results of traditional cutting techniques on the catwalk infused with embellishment primarily in traditional 'Gota' fused with thread work, metallic kora and dabka work. The 'Timeless Classics' collection was based in chiffons, georgette chiffons and heavy double georgette and includes both western and eastern silhouettes.
Designer Saman Arif is the aesthetic force behind the Nayna label. Indeed, nearly three years after the brand first unveiled its collection at an exhibition in New York, Nayna was voted among the top ten designers in the country. In May 2005, Nayna launched its collection in Pakistan with an exclusive fashion show in Lahore; the show was in collaboration with Christian Dior, Tag Heuer and Fendi watches. It was the first time that the aforementioned super brands worked in partnership with a local brand. In 2006, Nayna was nominated by Indus Network at the Indus Style Awards as among the top four young upcoming designer labels. The same year, the fashion house formed a partnership agreement with United Nations World Food Program (UNWFP) – indeed a manifestation of the brand's attitude towards fashion and social responsibility. In 2007, Nayna was shortlisted for the Young British Fashion Entrepreneur of the year award. In 2009, the label went global as the only designer in the country boasting of a franchise model for its international expansion plan, similar to that of an international FMCG brands, Nayna now has franchise partners in California, Chicago, Washington DC, Texas, Dubai, Leicester, London, Manchester and Toronto.
"We have done many shows in the past, both locally and internationally, including Washington DC Fashion Week 2009. But for so many local designers to come on one platform and present Pakistan in its true essence and liking is a different feeling altogether" says Saman Arif appreciating PFDC's and Sunsilk's efforts.
After a short break, PFDC Sunsilk Fashion Week Day 3's Act 2 was opened by the Karachi based label Khaadi who showcased their fashion week Autumn/Winter 2010 Prêt a Porter collection, "The Ties Of Freedom". The collection focused on contemporary urban street wear with fabrics inspired by the Central Asian Ikat thereby consisting of mainly hand woven silks and screen printed silks, complemented by jersey, silks and chiffons. Khaadi presented urban menswear and womenswear that is edgy with an emphasis on silhouettes created by cowls, drapery and paneling coupled with loose voluminous shapes and constructed jackets. Unfortunately, head designer Shamoon Sultan of Khaadi was unable to attend his show due to an illness that left him hospitalized.
Khaadi Khaas' Prêt a Porter is an extension of retail giant Khaadi, synonymous with hand-woven fabric and other handmade products across Pakistan. Khaadi Khaas was launched in 2008 with a vision to add exclusivity to the Khaadi brand. The result is a formal Prêt a Porter brand where exclusivity meets tradition which embodies style, elegance and individuality from classic, sleek lines to trendy splashes of colour. With textile design graduate and entrepreneur Shamoon Sultan as the force behind Khaadi, what started as a small venture with a few weavers has now grown ten-fold. Today, not only does Khaadi has its own production facility with a team of experienced weavers, it also has many other skilled artisans creating a wide array of products ands retails across 5 major cities in Pakistan through 13 retail outlets. A further testament to it success are four Lux Style Awards the brand has won including 'Best Men's Wear' (2002, 2005), and 'Best Retail Store' (2006, 2007). Khaadi was also short listed as one of the 10 contestants for International Young Fashion Entrepreneur (IYFE) Award in 2008.
"It's a great beginning of a new chapter for the Pakistani Fashion Industry, where, eventually we will be able to make our presence felt in the global market…Fashion Weeks are very crucial for an industry, provided it is able to meet the international standards" says Shamoon Sultan.
Next designer to showcase was the edgy Ammar Belal presenting his westernwear fashion week collection, 'The King Of Pop'. As the title suggested, the collection was inspired by Michael Jackson – more specifically, the 'Thriller' era and the subsequent punk rock look complete with zipping and studding detail for both men and women. His post – 'Dangerous' influence within this collection was symbolized through military style embroideries and braiding on tailored jackets and various silhouettes. The collection ranged from casualwear and streetwear to cocktail dresses and gown. A lot of emphasis was given to gold in the 'Kind Of Pop' collection along with hints of Red, Navy and Black on Banarsi prints paired with denim and leather. With a standing ovation for the collection, the models walked down the ramp to the King of Pop's beats and also featured fashion designers Deepak Perwani, Sadaf Malaterre, stylist Asmaa Mumtaz and leading pop musician Hadiqa Kiyani.
Ammar started his career in 2003 with his streetwear brand A.B.C.D, which offered basic casualwear with a quirky sense of design. His progressive approach to showcasing fashion through his music videos and films has earned him various awards that include Best Emerging Designer (Lux 2005), Best Menswear Designer (Indus 2006), Best Prêt Designer(Sunday 2008) and Best English Song (MTV/Indus 2006). Ammar also gained acclaim through his couture jeans label; AS Jeans and was featured in Womens Wear Daily magazine (New York) for his unique approach towards custom made denim. The renowned stylist Patricia Fields (Sex & the City) stocks AS Jeans at her New York boutique and they have been worn by the likes of Margherita Missoni, Kelly Rippa, and Boy George. The Ammar Belal label itself was launched in the summer of 2007 and prides itself on being the first luxury brand from Pakistan that adheres to the highest international standards of quality. It is the only Pakistani Fashion house that outsources their manufacturing to Europe and is involved only at the design and marketing stages of its products. The Ammar Belal label has outlets in Lahore, Karachi and Faisalabad.
Speaking about his participation in PFDC Sunsilk Fashion Week 2010, Ammar has said, "I am very excited to be a part of the fashion week in Lahore and looking forward to showcasing my work with some of the finest designers in our country. I also believe that this is just the beginning of Pakistan's exposure to the international fashion scene. It will be a learning experience for us and we as an industry have a long way to go after this initial step"
Following Ammar Belal on Day 3 was Tazeen Hasan who showcased her Prêt a Porter womenswear collection entitled 'Symphony'.  Her inspiration behind the collection was the sound of music which to Tazeen symbolizes harmony and tranquillity and ultimately a balance. The fabric used in creating this collection was based in chiffons; the cuts were clean and soft with an extensive use of bugle beads and matte sequins and colour as an accent throughout the collection.
Tazeen Hasan's personal design aesthetic rests on the understated, elegant, precise, and meticulous. Starting with small custom orders from her home in the year 1990, she has carved her own impregnable space in the world of Pakistani Fashion and has expanded from Prêt to Couture and for the last 6 years into Fabric Embellishment and Design.  Tazeen was nominated as the 'Best Womenswear Designer 1995' at the coveted Lux Style Awards held in Dubai. She participated in the 'Bridal Asia' showcase in New Delhi, India in 2006 and has represented Pakistan at the 'SAARC women's Conference' with a fashion show in 2008. She has the credit of being the first designer in Pakistan to change the face of machine embroidery using unconventional methods.    With minimalist themes and inspiration rooted in function rather than pure appearance, creations by Tazeen Hasan are designed to fit into the larger canvas of life.
Tazeen has said, "I think our fashion industry can try to contribute by bringing a softer more cultured image forward. It's also a great opportunity for putting out best work forward."
Day 3's finale featured the Karma design house who brought to the catwalk their "One Thousand and One Arabian Nights" collection. Inspired by the folklore and fables of ancient Arabia, the collection finds its roots in the tales of Sheherezade and the history embodied by the drama and mysticism of that era. The mood of this collection was to be equally empowering, dramatic, opulent and strong. Indeed the colours, motifs and embellishment take life and form the ethnicity and age old refinement of mysterious lands along with the sweeping, dramatic and seductive silhouettes. The collection fabrics range from limited edition brocades, deluxe hand woven kamkhabs, beaten hand woven tissues and diaphanous silks covering the complete colour spectrum reminiscent of the sands of the desert to the intense color of the Arabian court. Embellishment motifs included jewel and nature based inspirations based on the treasures of Ali Baba as well as the travels of Sinbad and were set with different materials varying from crystals, semi precious stones, gold coins, glass beads, seed pearls and traditional ethnic materials. The look was expensive regality and the essence of the collection is classic seductive opulence. Jamal Hammadi was specially flown in from Los Angeles to style the collection and fashion designer Hassan Sheheryar Yasin featured as a guest DJ.
The house of Karma was founded in year 2000 and is completing a definitive decade in fashion this year. The journey began with the aim of capturing its share in Pakistan's growing couture industry. Driven by principles of originality, glamour and professionalism, the team at Karma embraced its mission giving first priority to satisfying its clientele. Today Karma is known to deliver style, taste and elegance and in doing so, it is revamping the image of the Eastern girl. With Maheen Kardar Ali as the fashion force behind the label and Saad Ali as CEO, Karma has not only won the Lux Style Award three times which includes the best Women's Wear for Karma, Couture in Karachi and Dubai and the best Prêt wear for Karma Pink in Malaysia but as a company, revolutionized its sector as the market leader in providing a high fashion retail experience.
"The Karma woman of today is multi faceted and acts in various roles. She is a powerhouse at work, a glamorous socialite, a Jane Austen fan, a provocative teenager, an elegant mother of three, a Chanel 5 addict…Though she channels numerous roles and responsibilities, the ultimate vision is always singular, the love of being a goddess, a siren, a diva, a woman, a success" says Maheen Kardar about her vision for the house of Karma.