With a diversity of celebrities, models, designers and media in attendance, PFDC Sunsilk Fashion Week 2010 Day-2 started with a bang. Opening for Act 1 was the Karachi based model turned designer Sadaf Malaterre showcasing her womenswear collection. Mainly inspired by all that which surrounds her and more specifically, colour, her collection was based in pure silks and satins and is dedicated to the memory of acclaimed Pakistani artist and her dear friend, the late Asim Butt who inspired the designer and constantly encouraged the designer to experiment with colour.
The Sadaf Malaterre brand label epitomizes the results of experimentation with clothes and the ability to have fun with fashion. Boho chic by day and glamorous during evening soirees, Sadaf Malaterre's fashion aesthetic captures an ingrained free spirited bohemianism. In a very short period of time, the label has become one of the most talked about designers in Pakistan. Indeed Sadaf's design philosophy focuses on a continuous tribute to the celebration of life.
"I am glad that Pakistan has finally started having fashion weeks; this will definitely make the fashion industry more prominent globally" says Sadaf Malaterre.
Following Sadaf was Lahore based designer Yahsir Waheed showcasing his Prêt a Porter collection, 'Kee Janah Meh Kon', a line drawn from a famous Kafi written over 400 years ago by Punjabi Sufi poet Baba Bulleh Shah which the designer states hold true till today. Indeed the collection is designer Yashir Waheed's interpretation of the current political and social turmoil and the confusion of our times. Through 'Kee Janah Meh Kon', Yahsir endevaours to explore beauty and hope in imperfection, with asymmetrical cuts, distressed fabrics, prints and bursts of color. Yahsir's collection was focused on womenswear with select pieces for men, all in pure silks, chiffon and cotton.
Yahsir Waheed started his career as a knitwear designer at a textile company, after completing his studies in textile design from the renowned National College of Arts in Lahore and two years specializing in knitwear design from the UK. In 1992 he started a label "Ai No Corrida", which was a first of its kind, trendy label for the urban youth. Yahsir emphasise the need of quality fashion education in Pakistan and to this end, in 1994 when the Government started the Pakistan School of Fashion Design, Yahsir joined the school as a faculty member. The eponymous Yahsir Waheed label was launched in 1999 by Brimful Designs, a Lahore based multi-faceted design studio that delves into commercial applications related to design aesthetics. It forayed into creative and commercial successes in the area of fashion textiles with its brand "Yahsir Waheed Lawn" in 1999, and pioneered a new direction for designer fabrics. It was the first designer lawn label which was designed, manufactured and marketed exclusively by a design house.
Speaking about local fashion industry, Yahsir has said, "It's a very exciting time for the Fashion Industry of Pakistan. It's a first step in the right direction; Fashion is a multi billion dollar industry worldwide and Pakistan with its unique textiles, crafts and design can also be part of this international industry…Fashion is just not glamour though that's an integral part of it but it's also about business and exports and that is what are final aim should be. We can start by tapping into the domestic and regional markets and make a brand which can eventually go global…"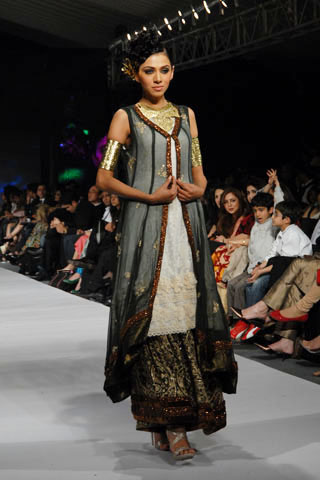 PFDC Sunsilk Fashion Week 2010 believes in supporting aspiring designers and in this regard students from two of the leading fashion schools showcased their respective collections. First up was the preeminent Pakistan School of Fashion Design (PSFD), established in 1995, which has now been transformed into a larger organization and renamed as Pakistan Institute of Fashion and Design (PIFD). The PIFD student led fashion ensembles showcased at the fashion week were designed and finished by students based on individual themes and received a long applause by the house-full audience. The second school to showcase their collection was the Karachi based Asian Institute of Fashion Design. The collection being presented by the students of AIFD synchronized the different themes selected by them and showcased their creativity and talent. The presentation depicted a fluid movement of diverse cuts and an innovative color palette, symbolizing the aesthetics and techniques taught at the Asian Institute of
Fashion Design.
Closing Day-2's Act 1 was Mehdi with his fashion week womenswear couture collection entitled 'Romance'. A Spring/Summer 2010 line, 'Romance' was inspired by fantasy and magic and draws from a world filled with innocence and the essence of love. Mehdi's fashion week collection included chiffon fabrics in the pearly hues of ivory, mushroom and dry pink with a touch of cotton, satin and denim embellished with thread work, beads and pearls with an ethnic flavour.
Designer Mohammad Mehdi, a graduate of the prestigious Pakistan School of Fashion Design launched his first collection in 2002. Today, he has showcased in New York, Houston, Miami, Chicago, Los Angeles, London, Romania, Karachi, Lahore and Islamabad. Mehdi also recently participated at the prestigious Portland Fashion Week in Oregon. Mehdi's design philosophy centers on creating pieces for the modern woman who dares to be different yet maintain her cultural roots. Mehdi is currently retailed in Lahore, Karachi, Islamabad, Dubai, Chicago, New York, and Los Angeles and will be also be launching in Portland.
Speaking about his participation in PFDC Sunsilk Fashion Week 2010, Mehdi has said, "I am really excited to be a part of a fashion week here in Pakistan. I have done a huge number of fashion shows all across the globe. It feels great that we are going to put Pakistan on the map of the global fashion scene"
After a short break, PFDC Sunsilk Fashion Week Day 2 Act 2 was opened by the young Karachi based fashion designer Feeha Jamshed showcasing Prêt a Porter collection for her brand TEEJAYS entitled 'Diamond City'. Focussing on womenswear along with pieces for men, the brands showcase was inspired by Lahore, which the designer interpreted as a city that is indeed a 'diamond' in every sense: culturally, historically, physiologically and politically. In this ode to Lahore, Feeha Jamshed's emphasis lied in cuts and the cotton fabric, Pakistan's national export. Walking the ramp for Feeha were designers Kamiar Rokni, Rizwanullah, Model Iffat Omar & make up artist Shehzad Raza.
TEEJAYS was started in 1970 as a movement by Tanvir Jamshed in order to create affordable fashion for all – to break down the trend of obvious disparity in the way the nation dressed. Feeha Jamshed joined her father Tanvir's movement and while her signature is similar to the TEEJAYS brand aesthetic, it is distinct in that she emphasises specifically on the cut, simplicity and the style of her designs. TEEJAYS has in the past been a recipient of the prestigious Lux Style Award and the Indus Style Award for Lifetime Achievement. Tanvir Jamshed was awarded the Sitar-i-Imtiaz, the highest civilian award in Pakistan, owing to his contribution in fashion thus making him the only fashion designer or label to ever receive such an honour.
Speaking about local fashion industry, Feeha Jamshed has said, "It is great to have been part of a fashion week that happened in Karachi and now that it's happening in Lahore. It's great to be part of a big change that's happening in our country because it shows that fashion is accessible to the real consumers that are the common people of the country and international buyers that come here rather than a few designers going abroad. I feel proud of my country"
Next up was fashion designer Saima Yousaf who showcased her label Hoorain's formal womenswear collection, entitled 'Universe'. As the name suggests, this line was indeed inspired by nature, the sun, shades of moon and earth and included western cuts merged with eastern heritage and had shades of silver, golden and black.
Saima Yousaf's Hoorain label is primarily known for is Haute Couture and its signature style focusing on luster, shine and vibrancy. Saima Yousaf's has been running her own textile mill Harrappa, and her design aesthetic can be viewed as an amalgam between tangible eastern influences and that which is bold. The brand has previously showcased at the coveted Bridal Asia in 2007 and at a prestigious crossover show by Sunil Sethi.
Speaking about her collection, Saima has said, "An amalgam between tangible eastern influences and very bold…blended western cuts into eastern heritage"
Following Hoorain was young Pret focused brand Muse who showcased their Autumn/Winter 2010/2011 womenswear Prêt a Porter collection at PFDC Sunsilk Fashion Week. The inspiration behind the collection was the aesthetic of the 1940's era which favored tailored separates, high-waisted pants and skirts and glamorous belted dresses. The design house updated this aesthetic with the use of intricate embroideries and lace to give an edgier and more romantic feel. Their collection was based in a diversity of silks, cottons and wools and embellishments were found in pallets, beads, pearls and laces. Walking the ramp for Muse was socialite Sanam Taseer.
Launched in early 2009 by Moeed Yousaf, Muse is a new contemporary womenswear fashion line. The label's philosophy is to make clothes with modern lines using luxurious fabrics and hand-embellished with motifs inspired by contemporary design. The idea for Muse was born in Paris, with a desire to bring a new aesthetic to Pakistan. Upon his return to the country, Moeed teamed up with Indus Valley graduate Faryal Aftab as co-creative director and together they launched their flagship Muse outlet in Lahore and later in Karachi at the Pakistan Fashion Design Council multi brand retail outlet.
"The Muse philosophy is to develop and promote a new aesthetic of contemporary fashion by taking inspiration from design and craft…our aim is to create timeless pieces that are unique – painstakingly stitched by a handful of skilled craftsman and worked and reworked over weeks and weeks" says Moeed.
Day 2 Act 2 was headlined by the Kamiar Rokni fashion label who showcased both Prêt a Porter and Haute Couture collections entitled 'East, West, North, South' a name illustrative of both their national and global influences. Indeed it was an organic extension of the label's 'folkcentric' aesthetic which stormed the catwalks in 2009. For East, West, North, South, the house of Kamiar Rokni focused on indigenous fabrics and embellishments inspired by traditional techniques. This collection featured a versatile range of ready to wear; from kaftans to billowing tunics, jackets and statement pieces. The fashion house revealed an emphasis on tailoring details and silhouette with an overall aesthetic lending itself to simplicity and a simple lack of fuss. Indeed Kamiar Rokni's collection marked a departure from their signature burst of vibrant colour; this collection's colour palette is more controlled and one can expect a diversity of fabrics including cotton based wear to satin and velvet. The label inspired to showcase a collection that is simultaneously elegant, timeless and relevant all at once. Kamiar Rokni's major inspirations for this collection lie with an exposure to the world in which we live and the myriad hues it has to offer from all four corners of the globe. The label is constantly inspired by craft, textile and ethnicity and the latest collection encompasses all of these elements in a minimal modern manner. The Kamiar Rokni muse, model Maliha Naipaul walked the ramp for the Kamiar Rokni fashion label.
The house of Kamiar Rokni has received an overwhelming response from a trusted clientele with the team now designing for clients in places as diverse as Italy, Holland, USA, England, France, Canada, Dubai and Greece to name just a few. The luxury label's Prêt a Porter and Haute Coutu