(Lahore, 03 February, 2010) The Coke Studio team proudly introduces the expansion of the live music platform to encompass and introduce a series of exclusive 'behind –the- scenes' web blogs in 2010, due to popular demand. Through these blogs Coke Studio looks to share with its fans the passion, creativity and sheer joy behind these sessions thereby endeavouring to bridge the gap between the studio and its fans.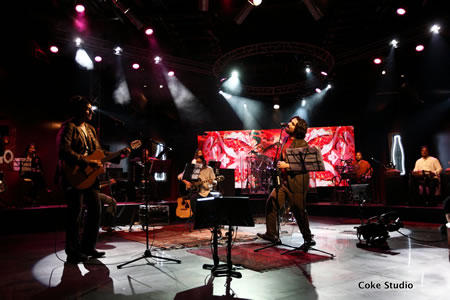 Indeed while Rohail Hyatt and his team gear up for a third season of electrifying collaborations and improvised fusion music to air later this year, Coke Studio's ongoing web blogs bring you right on to the studio floor and into the red room for a sneak peak into where the magic first started. This series of ten minute blogs will include never been seen before interviews, pictures and interactions across both season's 1 and 2 of Coke Studio. Indeed these blogs are set to showcase the harmony and diversity of the collective platform while also revealing the meticulous attention to detail that goes into the making of these sessions. Amongst many surprises in store for fans on these blogs are a series of 'Coke Studio Specials' about which more will be revealed as each blog airs.
In the first blog going live online today, fans are taken back to the making of season's 1 and 2 where the cameras catch the house band and artists at their inspired and candid best and indeed reveals the optimism that is inherent to the creative process. In addition, a fascinating 'Coke Studio Special' is introduced, showing an unedited one-camera perspective on Noori's 'Sari Raat Jaga'. To put this in perspective: Coke Studio's final sessions were filmed with a complete ten camera set up and this unique one camera angle gives fans an insight into the detailed mastery behind Coke Studio's video team and its filming vision and style, led by Video Producer Zeeshan Parwez and Associate Video Producer Adnan Malik.
Speaking about the release of these blogs, Executive Producer Rohail Hyatt has said: "With the Coke Studio sessions we have taken fans into an environment that has traditionally been the exclusive domain of artists, musicians and music producers – the recording studio. Conceptually, Coke Studio has always been about sharing and the idea behind the Coke Studio Web Blogs is in line with this general 'inside-out' philosophy. At the end of each season we find that we have all this additional content that we would really like to share with our viewers. "
Produced by Adnan Malik, Producer of the Coke Studio behind-the-scenes segments, the Coke Studio blogs stay true to the spirit of the sessions by inviting fans to share this musical experience, to connect with the team throughout their journey and to be part of the evolution of the platform. These web blogs now bring an exciting new dimension to the whole Coke Studio experience.
About Coke Studio: Coke Studio embodies a musical fusion of exciting elements and diverse influences, ranging from traditional eastern, modern western and regionally inspired music. Bringing alive the magic of live recordings and performances, Coke Studio prides itself on providing a musical platform which bridges barriers, celebrates diversity, encourages unity and instils a sense of Pakistani pride. Coke Studio is an inspired step by Coca-Cola for having created a platform where renowned as well as upcoming and less mainstream musicians from various genres can collaborate musically.
About Coca-Cola: The Coca-Cola Company is the world's leading producer of soft drinks. Along with Coca-Cola, recognized as the world's best-known brand, the Company markets four of the world's top five soft drinks brands, including Fanta and Sprite. Through the world's largest distribution system, consumers in over two hundred countries and territories enjoy the Company's products at a rate of more than 1.5 billion servings each day.