Gharara is a traditional Pakistani dress, which consists of kurti, dupatta and wide-legged stylish pants, that reaches the knee, and then they flare out dramatically. Over the time ghararas have gone through various transition from traditional to contemporary ones or present a blend of both.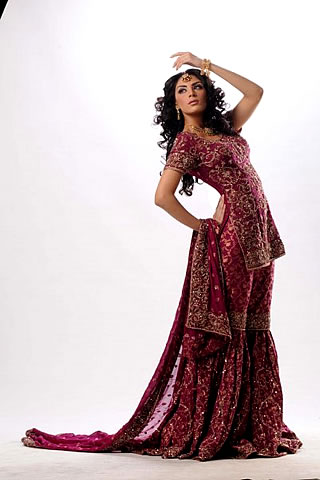 If we look into the history of gharara, they originated during the era of Nawab in Lucknow. Muslim women of noble families in 19th and 20th century used to wear it. Gradually gharara trend declined and was replaced by sarees and shalwar kameez. However, they are still very popular among Pakistan brides. At a wedding or a party Pakistani girl wear brightly coloured gharara, for example red, blue or saffron. For a formal occasion, you can opt for light coloured clothing.
Gharara can be heavily embellished when being worn for the purpose of marriage or simple in case of normal events like birthdays, parties, etc.
The design of Pakistani gharara is an art and it requires a good mind to come up with the latest ideas and techniques.
In the present times, this Pakistani dress has become hugely popular with young Pakistani girls. Some of them even buy expensive designer ghararas from HSY, Maria B, Nilofer Shahid, Mehdi etc to be worn on special occasions. Pakistani ghararas are available in various designs and fabrics like georgette, satin, silk, etc.
Few popular designs are golden zardosi gharara, yellow gharara, resham work gharara, crush tissue gharara, mirror work gharara. The embellishment work on gharara includes sequins, kora, swarovski crystals, dabka, beads, cut-glass, kamdani and applique.
In Pakistan, one can simply visit the local clothing store or local tailor and has a Pakistani gharara made to order. People outside Pakistan can order Pakistani dress over the net. The prices of Pakistani dress ranges from Rupees 5000 and above.
The essence of gharara will always be in the heart of the Pakistani women. The popularity of Pakistani dress is reaching the zenith as never before. The market of gharara is well aware of its popularity and they have many innovative ideas to win the hearts of Pakistani women.