With the end of Ramadan in sight, people have set up Eid stalls to sell bangles, artificial jewellery, henna, clothes and other products related to the festivities. In preparation for Eid, most shops are offering special Eid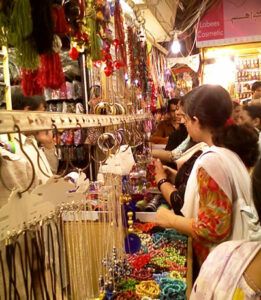 discounts and the malls are full of customers. In Lahore, Liberty Market, Fortress Stadium, Anarkali, Ichra, Link Road, Moon Market and shopping malls are the center points for the eid shoppers.
The shopkeepers have displayed a variety of things, particularly new designs of clothes and shoes. Most of the women who go shopping are interested in having beautiful designs of henna applied on their hands and feet and some of the stall owners hire experts to apply different designs on their customers.
A small number of people have already completed their Eid shopping at the start of Ramadan, while majority of them will do their eid shopping in the last days of Ramadan. Sidewalks of the roads, mostly occupied by temporary stalls and vendors, offering jeans and T-shirts and ready-made clothes were seen packed with the buyers of all age groups.  The sadness and gloom which had overshadowed the traditional hustle and bustle of the bazaars has now seemed to disappear, as rush of the shoppers with their full passions and glittering faces seem to be bitten by the eid shopping bug.
Eid is one festival Pakistanis really know how to celebrate and the witness of this is the over crowded shopping malls.