(Lahore, 03 September 2009) After the success of Ensemble and Ritu Kumar in Karachi, Zeba and Shehrnaz Husain bring both store and brand label to Pakistan's cultural hub – Lahore, at the prestigious Mall of the Lahore.
The Ensemble fashion house will bring to the city a palette of Karachi's iconic and young designers including: fashion stalwart Faiza Samee, pioneer and multiple national award winner Rizwan Beyg, contemporary designer and Lux Style Award winner 2009 for Prêt a Porter Maheen Karim, acclaimed designer Nida Azwer who was also nominee for best emerging talent at the Lux Style Awards 2008, the Umar Batul Prêt line which is a collaboration between the maestro Umar Sayeed and magazine editor Batul Rizvi, evergreen designer Sanya Muneer, the edgy Lux Style 2009 nominee Sadaf Malaterre and Ensemble's eponymous line.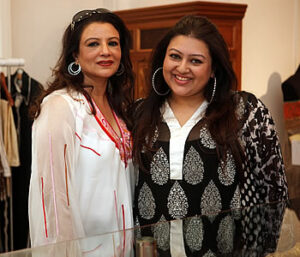 Within the same retail space and in keeping with their fashion tradition, Ensemble will also be introducing their exclusive Indian designers to Lahore with a complete collection from Haute Couture guru Ritu Kumar and pieces by Tarun Tahiliani who is known for heralding a fashion and retailing revolution in India and Simar Duggal, model turned contemporary designer.
On opening in Lahore, Zeba and Shehrnaz Husain have said "We opened as a small boutique in Clifton some two years back and have grown to introduce new designers, re introduce classic designers in new avatars, showcase new collections and exclusive fashion lines, bring Ritu Kumar to Karachi in 2008 and stage fashion shows every season. To be opening in Lahore is an extension of Ensemble's vision, which is to help make fashion exciting, accessible and dynamic; and what better place to execute this vision – Lahore does after all share both a historical and contemporary relationship with high fashion and style!"
The opening of Ensemble and Ritu Kumar in Lahore will feature signature, Prêt a Porter and Eid collections of all designers.
About Ensemble:
Ensemble is one of Pakistan's premier independent luxury boutiques, conceived and established by Zeba and Shehrnaz Husain in Karachi. A pioneer in its vision, the outlet houses collections of top designers from both the Pakistani and Indian fashion industries, thereby creating a unified space on a combined platform for leading designers both sides of the border. The fashion space houses exclusively Bunto Kazmi's Prêt a Porter line, Umar Saeed Couture, Sana Safinaz's Prêt a Porter collection, Sadaf Malaterre, Umar Batul, Faiza Samee, Shamaael, Tarun Tahiliani, Rohit Bal, Simar Duggal, Adnan Pardesy and Kamiar Rokni.  Their new Lahore outlet include designers new to the Ensemble family, Rizwan Beyg, Sanya Muneer, Maheen Karim and Nida Azwer.
Ensemble's debut show was the re launch of design stalwart Shamaael at a critically acclaimed November event in 2007 followed by introducing Kamiar Rokni's solo label to Karachi the same year. Ensemble's Spring/Summer showcase was held in 2008 where Umar Saeed, Sadaf Malaterre and Kamiar Rokni took to the ramp for the first time ever and where Nilofer Shahid also showcased her debut Prêt collection. This was subsequently followed by a Fall/Winter fashion show the same year where the iconic Bunto Kazmi showcased her Prêt collection for the first time in her career and young designer Adnan Pardesy debuted. Since then, Zeba and Shehrnaz Hussain have launched the official Ritu Kumar retail outlet in Pakistan, introduced Rizwan Beyg and Sana Safinaz's exclusive and first ever retail ready Prêt a Porter collections and most recently, held a fashion show in honour of the Teacher's Resource Centre (TRC), thereby putting fashion's socially responsible foot forward to promote specifically, education and progression in Pakistan.
Ensemble has also recently developed its own line in collaboration with the charitable Behbud Assocation of Pakistan for their block printed fabric. Zeba Hussain herself has been supporting charity through fashion for over two decades through initiatives such as Carnivale De Couture in aid of TRC, the MALC annual ball and fund raisers and balls in aid of the Kidney Centre and the Lady Dufferin hospital.
In 2009 – 2010, Ensemble will be holding a Fall/Winter fund raising fashion show in Lahore in aid of the IDP'S.