Passionate Proud Pakistanis are celebrating their "Independence day" on the 14th of August, with full enthusiasm and warmth. No doubt, the affection and tenderness of the patriotic feelings reaches up to their highest edge while celebrating Independence Day.
There are many ways to celebrate and enjoy this especial day; from individual to national level all celebrate this day with their own aptitude. The day has the National Holiday as well, all the over the country. The Independence Day is celebrated throughout the country with Flag raising ceremonies, on almost all big & small, Government & private buildings of our beloved country. Other then this, there is another rich tradition of presenting tribute to the National heroes in different ceremonies. Particularly in the capital of Pakistan, "Islamabad" the President & Prime minister of Pakistan raise the Flag on Presidential & Governmental buildings and delivers speeches. In the speeches they discussed the achievements, we have secured and the future goals and aims, we need to achieve.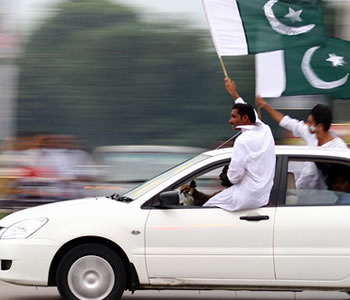 Pakistan being a rich cultural state has its own several ways to celebrate the occasions. Big cities celebrate Independence Day with special lighting arrangements on many buildings and houses, families and friends arrange dinners & parties, etc. Housing colonies, Television & radio channels, cultural centers, and different societies organize amusement programs and healthy competitions. Special transmissions broadcast from the entire the Radio & T.V channels all over the country. The preparation of special patriotic songs goes on its bloom on this extraordinary occasion, with the arrangement of special musical concerts.
Besides all these excitements, the Fashion Industry of Pakistan also manages unusual Fashion shows and shoots, particularly regarding to colors theme of the day, which is Green & White.