Khaadi is one of the most dependable and wearable stuff to enjoy in most of the seasons in a year. Any time in any season its quality remained unbeatable. Particularly to re-fresh th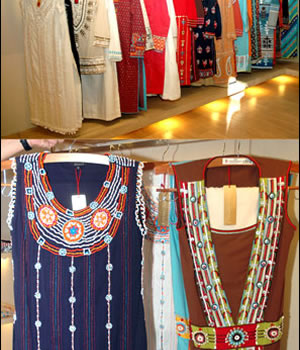 e summer season when comes with its full bloom. Khaadi stuffed brands or products are not only restricted within clothes & fabric; you can enjoy Khaadi in your hand bags, foot wears and other home accessories.
The most important reason for the reliability of this stuff is that it is trendy and comfortable so that everyone can easily carry. This might be the reason that you will find a huge range of Khaadi in different varieties in almost every market. Majorly Khaadi is best known for its autograph three piece suits with straight lines and plain shalwars, cotton silk with sequins and motifs, especially wearable for formal evening wear and pure silk suits which can go for both wedding and party functions. These are some of the ideas that can be considered as Khaadi's Hallmark.
Another noteworthy thing about Khaadi is that it is affordable and people from almost every walk of life belongs to almost every class can easily reach up to this trendy stuff. There is also a range in semi-formal readymade short tunics as well. In summer season Khaadi is available in many colors, mostly in light colors range; but the combination of Black and white never goes out of the fashion.
Besides in fabrics, you can get Khaadi in your bags and foot wear additionally. The sandals, pumps and especially flip flops with beads and bows are also gaining prominence day-by-day. The interesting thing about the Khaadi footwear is that they are also very comfortable that's why usually available in casual footwear.
Next to the footwear, khaadi is also available in the jewelry items too. Metal has got a little bit space along with the khaadi in jewelry. Also the pure silver bangles, bracelets, ear rings, with the touch of khaadi. These jewelry items are no doubt opens new door in the field of jewelry making.
So get ready to enjoy the colorful Khaadi clothes, footwear & jewelry or a match of all these at a time in this summer.