Kamiar Rokni is matchless. His designs are timeless and luxurious, and the creations sustain an immaculate niche in world of elegance beauty and fashion.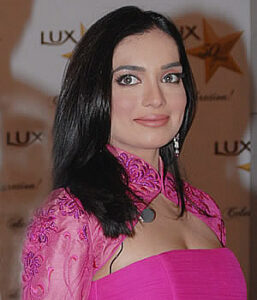 Kamiar has just recently expressed his opinion of who he feels represents his designs in the most beautiful way and it is none other than the two beautiful ladies from the fashion bloc, Maleeha Naipaul and Aaminah Haq.
Maleeha ,who according to Rokni himself, has been his childhood friend and a great inspiration and at times sub-consciously, he keeps her in mind while he designs his clothes. How very inspirational indeed.
To kamiar, Maleeha and Aaminah are two different beauties with alluring feminism hidden in them. Where Maleeha looks like the women you see in the classic paintings, possessing pale and unearthly beauty, Aaminah is a depiction of debonair, passionate and sensual woman, which benefits him as his inspirations in work to design differently for different kinds of women out there.
Aaminah Haq might not be tall as the others but she has looks that could kill. Her versatile features and goddess-like aura is unrivaled. And to top it, she makes efforts to gloriously dress for every occasion, sustaining her position as an enduring star in the style zone.
Kamiar believes his designs can't be presented any better than these two lovely ladies.