Pakistan's style & beauty industry is remarkably producing big names day-by-day. One of those is the name of 'Rizwana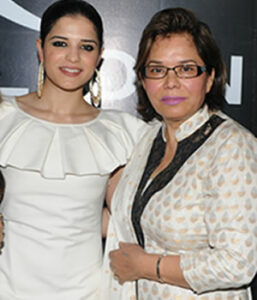 Khan' with her beauty salon, Zara's salon; named on her daughter.
Rizwana Khan has recently celebrated the 26th anniversary of her beauty salon with a sparkling style show at her Zamzama branch in Karachi. She is one of the cream beauticians of Pakistan, those who spend more than 25 years in the world of beauty & style industry.
She has started her salon in the 80's when there were few known beauticians like Musarat Misbah, Peng Qureishi, Rohana Iqbal, and Daulat Rahimtoola. The top salons like Shaheen's, Depilex and Dolly's were present at Tariq road Bhadarabad Karachi. So she had to work very hard in making her prominent position among the list of top beauty experts.
She opened her first beauty salon in North Nazimabad. Then she went to Baghdad (Iraq) for few years to get professional training of hair, make-up and skin. In Iraq, she learned a lot about hair and make-up; especially about Bridal make-up and got a good experience. She returned home in 1990 and re-opened her salon. After successfully running her first branch, she opened her second in Bhadrabad with the help of her friends & family after 15 years. Last year she opened her latest branch at Zamzama.
Rizwana has participated in lots of fashion shows and has done numerous beauty shoots for different magazines. Her recent fashion & style show was held at her Zamzama's salon. It was basically a hair and make-up show.
At the show some top fashion models like Iraj, Jia Ali, Rabab and Maha were there to make the event more colorful and glamorous.