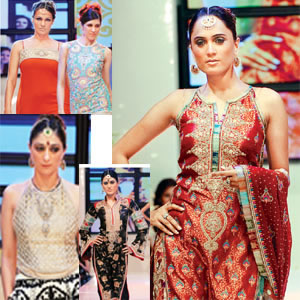 You may have heard different collection of jewelry, different artist paintings under one roof etc; but get ready to know about different designer's fabric anthology in a same place.
A recently opened multi labeled fashion store (Eight Labels) has open its doors for all the trend lovers; to get unique and exciting range of summer collection. You will enjoy a great variety of eight labels. This will give you so many unique, up-coming and stylish ideas both with the eastern & western touch or it can be a combination of both.
In western trendy outfits, James Abidi and Pashmina are here and for some traditional or eastern outfit you will find Jannat and Sadaf, Mahira, Sadiya Nadiya and Samar Shajani.  Last but not least Hala Syed also presented her latest & hot collection. Some fashion models were also there to show the designer's work in their own fashionable style. Your visits to this seasonal fashion album will definitely assure you that summer has arrived in our country.
Nadia James Abidi's summer anthology in infused with the summer bust of aquamarine. Her spring/summer line is about seasonal fun and breezy colors. Her work can easily grab the attention of the people particularly teenage girls will like to wear her labeled cloths. Her blend of blues with the green will make you to think about the beach, as inspired by Greece. Ayesha Omar and Nadia Hussain modeled her designs.
Sadiya Nadiya's affordable and casual outfits also added shine to the store. Nadiya Sohaib and Sadiya Jamil used chiffon with contemporary cuts, some also features embroidery. The designer duo has been working for over seven years. Model Fouzia presents their selections of designs.
Faisalabad based designs of Jannat shahid and Sadaf's Prêt collection for spring and summer focuses mainly on the whites and then on the mid-night collection with lots of blacks, emerald greens and blues. The fusion of block prints, caftans and baby doll tops were also added strength in their outfits. Model Amna ilyas presents their designs.
Hala Sayad has something for everyone, according to her. She has become an integral part of labels over the year. She introduced wide legged pants to silky loose tops with off shoulders. She also added elastic to the sleeves and played with whites and printed embellishments. Hala's designs accommodate ladies as they are easy to wear, comfortable and affordable. Rubab and Neha modeled her designs.
Atiya Khan, ex-super model turned journalists showed her collection that sounds Katans and tunics. She seems inspired by ancient Islamic traditions of Morocco, Turkey and even the Mughal era. She presented a bold and new look of woman outfits with the almost all bright colors and dense embellishment.  Her 'Sufi' collection of out fits was modeled by Turbaned Nadia and Arisha Bano.
A true fashion observer Maheen Karim is one of the Label's star designer also showed her highly exclusive designs. She designs her fabric with the true fashion sense. She is considered as perfectionist from the concept of outfit design. Fayeza Ansari showed her golden collection.
Samar Shajani a 25 years old young and new fashion designer made her first safe and sound appearance by displaying her collection as well at labels. She is a graduate from the Asian School of Fashion Design. She worked on the eastern outfits with the fine cuts and elegant embellishment. Model Maha presented her first fashion collection there.
Islamabad based designer Pashmina Ahmad introduced foreign trained fashion designs, as she came Pakistan after graduating from the London School of Fashion.  Her collection steers away from conventionalism and bravery borders on cutting edge trendiness. You will see a disco-chic fun element running deep in her collection. Feeha Jamshed modeled her outfits.
 So people do visit this multi labeled fashion extravaganza and enhance your beauty by adding different colors in your life.