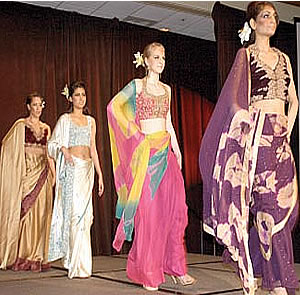 Even with the world facing a major global recession, fashion industry doesn't seem to be bothered by the changing winds. Instead, we see newer trends coming in everyday.
Pakistan fashion industry is one of the growing fashion industries. People across the globe are beginning to view this part of the world with great curiosity, wanting to explore the creativity embedded in the hands of the brilliant minds at work.
Everyday there is a new designer bringing forth a new pattern of dressing and style. New names and new faces are being seen in public, launching their pret collections and designer wears. But, what's the challenging part is that, with more and more people coming in, the options to choose from are growing wider. Obviously, it is very fair to give the new designers a chance to expose their hidden talents, instead of keeping ourselves conserved to the renowned ones or the ones we have always chose to shop from. This way new talent is appreciated and gives a versatile look to our appearance, in particular our wardrobe. One should experiment with colors, patterns and designs – to be specific designers.
Today's fashion is more about, adding the magic of colors – A LOT of colors. We are talking bright and bold colors with colorful patterns whether abstract or traditional. You'll notice the effect of spring season in everything; apparel, accessories, shoes…you name it!
Not to mention, international runways too are dashed with multihued designs and outfits, which dazzle the eyes and attracts anyone, anytime. You'll find pastels colors to vivid brighter tones, from hot and happening reds to mellow soothing blues. Even a touch of gold and silver glitzy adds-ons and embroidery, is the 'style of the day' and fancied by any designer in their work.
We are in for major revolutionary trends. The good old fashion infused with today's funky fashion is what we see more on the ramp and out in the streets.