With the weather taking more on the warmer side each passing day, its time pashminas and georgettes be put away and lawn be placed in the front, easy to pull out and wear.
With the soon to arrive scorching afternoons and warm sunny days, lawn is the only fabric which can bearably be worn during these harsh days. With the arrival of April, we see more and more varieties of Lawn appearing in the markets, and more and more people crowding the cloth shops to get the best designs. You see lawn everywhere now at exhibitions, markets, even at the tailor shops.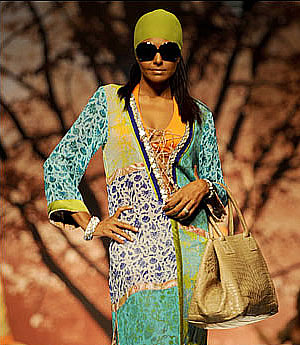 with more and more people, get attracted towards lawn, this means more new creativity needs to be put in by designers to give us more fresher stock –something which appeals us in the first glance.
This year designers' palette includes pastel colors for lawn. These colors include pale yellow, peach, light blue, lavender, lilac, sea green, tea pink and lime.
If pastel is not your thing than you can always opt for brighter colors like hot pink, deep purple, bottle green, red, intense yellow and royal blue. These colors, too are ruling this season.
When it comes to prints, floral are always on the 'should-buy' list. Whether big prints or small prints, florals always look great and nothing can beat its popularity. Added features include embroidery and shimmer. Apart from these, abstract and traditional prints are much loved as well.
This season shalwars are plain and simple with chiffon/georgette dupattas, adding grace to the dress.
If you haven't been out shopping yet, it's time you get in the summer spirit and grace yourself with lovely lawn prints. Happy summer shopping!