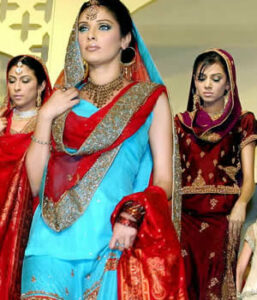 Fashion is only the attempt to realize art in living forms and social intercourse.
– -Francis Bacon
Asian Fashion Extravaganza is going to add lots of color and new variety in the Fashion industry of Asia, particularly in India & Pakistan. Vision Event International & Savvy PR Events in connection with ARY Digital Network, MASALA and with some other organizations are going to present mega fashion event in Dubai, on Thursday 19th of March 2009. Savvy PR is one of the renowned & reliable event managers and Aamir Mazhar of Savvy PR is working very hard in Dubai to make this event successful. This marvelous fashion event provides an opportunity to the top class Indian & Pakistani Designers to show their guts.
Dubai is a big hub for promoting Pakistan & India joint ventures in numerous field and respects. Especially in the fields of style & Fashion, Dubai is playing its role as a better platform. Through this platform, many designers from both the countries will get the chance to present their skills by their fashion collection. Different designers of India and Pakistan are participating in this mega fashion event; and probably they will show the culture and fashion taste of their respected countries.
If you'll be the part of this fashion world you can meet so many fashion personalities featuring UMAR SAYEED, SONIA AZHAR, ARNAB SEN GUPTA & many more. In fashion models IRAJ MANZOOR, RUBAB, NOOR BHATTY, GIA ALI, NADIA HUSSAIN, RUBYA CHAUDHRY and so many others would be there to represent the fashion collection of different designers in their own stylish way.
We also have some major details of the fashion event, this manly includes the schedule of the 19th of March; like7PM: RED CARPET, WELCOME DRINKS & EXHIBITION, 9PM: DINNER, 10.30PM: FASHION SHOW, 12 AM: AFTER PARTY. Besides them in costs and schedule includes a table accommodating 8 people priced as VIP: 10,000/- AED, NOIR: 8,000/- AED, ROUGE: 5,000/- AED.