You may have enjoyed our first two commentary informational tips for your wedding preparations. Now we will tell you some more fruitful makeup tips for your main wedding day. So that you can look as bright as you want.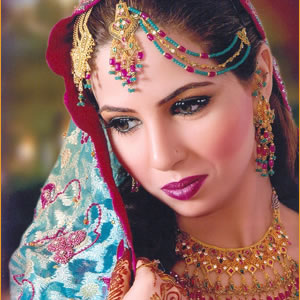 After attending so many small functions before your main wedding day your skin required some rest now. In order to refresh yourself & your skin you need to take complete rest a day before your wedding and a proper deep sleep on that day. Take bath in the beginning of the main day to make you fresher. Other than this, go to some professional beauty parlor for your eye brow shaping a day before your wedding. The fine shaped eye brow is compulsory as they frame the eyes.
Besides these small refreshing tips, if you will spend whole day before your wedding at the spa to de-stress yourself, than is marvelous.
Before starting make over you must be careful enough that your face is properly washed and clean. Bridal makeup on the main wedding day should be bright and neatly done but with a decent look.
First of all, after properly wash your face; use a light moisturizer to smoothen your skin.
Select a concealer of a lighter color shadow areas of the face particularly around the eyes and nose. Then gently apply and blend it all over the face and under the neck use an oil free foundation, which will last throughout a long period of time. Try and choose a color tone, which is slightly lighter than your skin tone but never for white. Well matte foundation is best suited for Asian skin, as it gives the natural effect. To get rid of blemishes touch up your face with a concealer. Apply translucent powder and spread evenly all over the face to get that matte effect. Proper make up should be applied to the forehead, nose and chin.
The eye makeup is very important so proper care should be taken for eye makeup. Use a brown tone eye shadow for softness and white makeup to lift. Use a thin line of white makeup eyeliner on the eyelid, to highlight the eyes. Finish the line with black eyeliner and add a little black eye shadow under the eye.  To highlight your lashes use black mascara. To have an in depth look brush eyebrows and apply a brown eyebrow pencil.
Use a fine quality lipstick, which will last for few hours. If you want to apply glossy lipstick, than first apply the matte lipstick of the same color, and then apply the glossy lipstick over it. In this way your lipstick lasts for many hours. The color of your lipstick should match your dress is an obvious thing.
Now-a-days make trends are mostly glossy and shimmering. Most brides go for glitter and gloss.
Accurate makeup with a sober look and matching with the skin tone can really make you as elegant and attractive as you were dreaming for.