Introduction
According to the preference of consumers, Pakistani eid outfits for Women can be formal, semi-formal, or allure a basic finesse. On Eid, a frock with a Lehenga, Sharara, or Churidar is a wonderful option for a traditional women's eid outfit. Shalwar kameez for Eid, or kameez trousers will offer you a beautiful and simple style. The Pakistani eid dresses 2022 can be spectacular selections due to fine detailing, embroidery, and adornments.
When it comes to women's fashion, our society is stitched together by a plethora of colors, styles, patterns, and economical brands. Our ladies are unstoppable when it comes to putting together a fantastic, top-notch outfit. Pakistani women ardently love classy traditional attires. There is no limit to the number of Pakistani ladies who like cultural traditional dresses. When they come across someone with a completely messed up sense of style, there is no limit to the criticism directed at that individual. No one wants to be that person. So here are some basics that you must keep in mind while shopping for eid collection 2022.
Several designer companies have emerged in recent years, and many of them are very accessible. The competition is severe. Every few days, a new trend emerges, which is adhered to with great enthusiasm. We've noticed an influx of trends over the last year that provide ladies with a plethora of styling alternatives. They say age is just a number, but women know pretty well that it's more than that. For all the Pakistani women, here are some attire inspirations for you.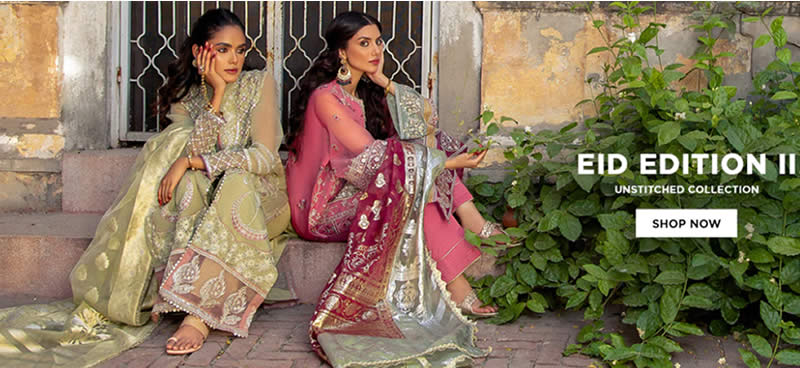 Check out Sapphire's new eid collection 2022 now.
Some tips for this Eid
Try buying women's unstitched three-piece outfits as it will save you from the trouble of getting matching trousers and a dupatta. Save your time and energy and invest in eid clothes that will suit you. With brands offering different sizes it is best to wear well-fitted outfits and try incorporating unique styles into your outfit.
Eid is the time of year when we don't care how we spend our days; all that matters is how we appear. It's all about the hussle. the preparations; running from one shop to another in pursuit of the ideal clothing! Wear the most up-to-date and attractive attire to get the ultimate Eid look.
Medium-length shirts:
Short shirts or frock styles are still being considered by several Pakistani fashion designers. Okay, but no one wants to wear the same stitching style over and over again! As a result, for Eid 2022-2023, the majority of fashion businesses have produced medium-length shirt designs with fringe stitching styles. Yes, the medium-length shirt and the culturally significant fringe trend are back!
Brands are continuing to reshape the fringe trend, according to the latest Eid fashion advice for girls. Fringes are constantly reinvented in modern fashion, always in a new guise. You might wear a knee-length shirt with a bit of fringe with cigarette or straight pants, and a dupatta to complete your look.
Simple shalwar kameez or frock with churidar
The women's lawn is a traditional Pakistani outfit that is also an excellent choice for Eid. A women's cotton suit is an article of ideal clothing for ladies who conduct home duties during Eid since it allows them to not only work comfortably but also appear beautiful and lovely.
Frocks with churidar, on the other hand, are an excellent choice for this Eid since they are comfortable and can be worn with churidar at any soiree. Whilst frocks with churidar are popular these days, shalwar kameez has never been out of fashion in Pakistan, thus both kinds of looks will be a prudent choice for eid dresses in 2022.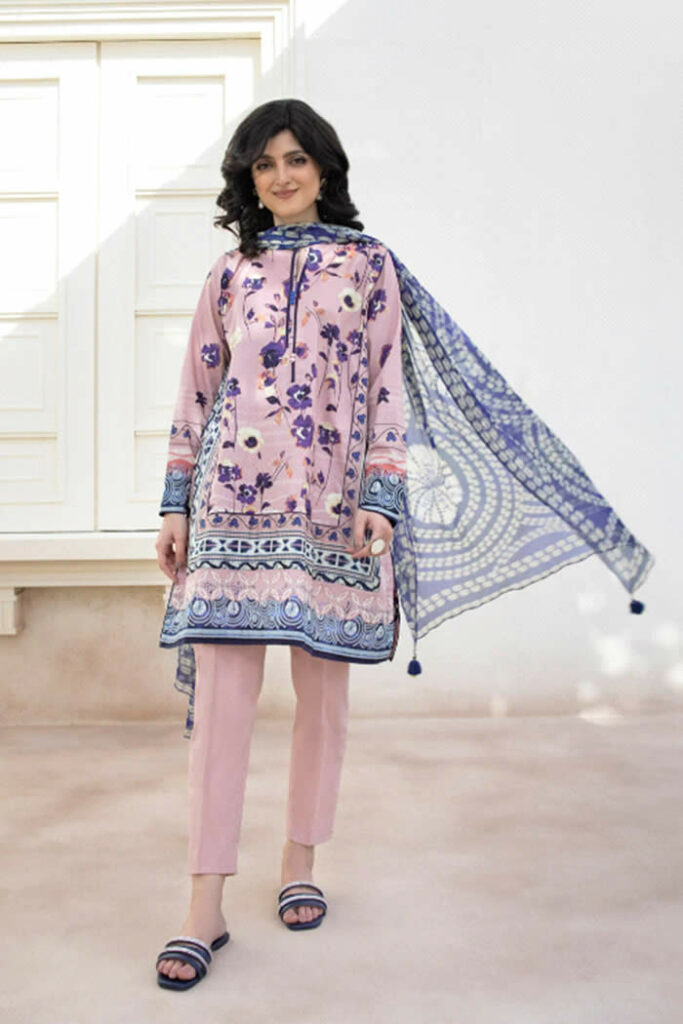 This beautiful dress is now available on Sapphire. Hurry up! Shop now!
Short loose shirts with plazo
These days, short-length shirts in a loose fit paired with plazos are a popular choice in Pakistani fashion. This is formal attire, and the ladies appear quite nice and dignified in it. Wear it as a women summer dress or style it for Eid, it is a perfect combo for any summer soiree.
Short shirt with sharara
Another exhilarating idea for this Eid is a short shirt with sharara that is completely desi attire. So if you want to look Pakistani or desi at 2022's Eid even in a foreign land, then a short shirt with sharara should be your ultimate choice.
Frock with tight trousers or pants
One of the most beautiful Pakistani eid dresses 2022 costumes is a Desi-style gown with tight trousers or cigarette pants. This style of dress also appears to be highly respectable and appropriate for a desi event such as Eid. The gown appeals to the eyes more with intricate embroidered details.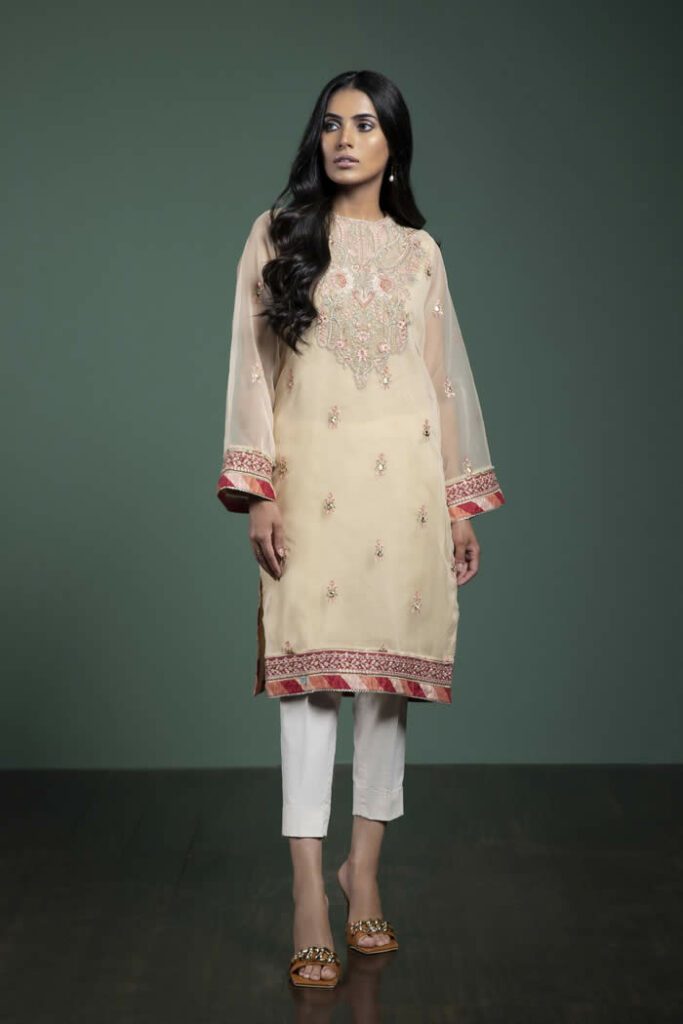 Shop for women's summer dresses, ladies' summer dresses, floral summer dresses, summer dresses with sleeves, short sleeve summer dresses, and many more articles only from Sapphire. You can also check out their summer dresses online.
Short shirt with cigarette pants
Finally, wearing a short shirt with cigarette trousers is a popular style in Pakistan these days, with many people donning this look. It offers, a stylish appearance, and if well embroidered, it might be your ultimate Eid outfit.
You can find all the above-mentioned new eid dress designs 2022 on Sapphire and you can also check out their unstitched suits online. They sell these outfits to Pakistani people living in America or other western countries.
This is because they want the overseas Pakistanis to wear such Pakistani attire for the special events to enjoy the occasion in traditional colors. Also, they love to keep fellow Pakistanis abroad updated about the contemporary fashion of Pakistan so that they would not lag by following the old trends.
Conclusion
No matter what you opt to wear this Eid, you will always look the most beautiful among all. It is best to not forget the needy and it is our duty to make their eid special too by covering their necessities. Spread love! Get love! and have a blast this Eid ul Adha 2022.