Talidara, the renowned luxury jewelry brand, is set to make waves in the watch industry with the launch of their inaugural wristwatch. Drawing inspiration from serene living and Japanese art, this remarkable timepiece is poised to captivate horology enthusiasts.
Named "Heiwa," meaning "peace" in Japanese, the watch embodies the philosophy of savoring the present moment rather than frantically chasing time. It serves as a gentle reminder to slow down and embrace the precious moments we have.
The most visually captivating aspect of the watch lies in its vibrant white and red colors, achieved through the skillful use of ceramic materials. The bright hues create a striking visual impact, complemented by an art dial featuring darker monochrome shades reminiscent of a serene mountain range.
Talidara's "Heiwa" timepiece not only offers impeccable craftsmanship but also encapsulates a profound concept of finding tranquility in our daily lives. This fusion of art and horology promises to deliver a truly mesmerizing and meaningful wristwatch experience.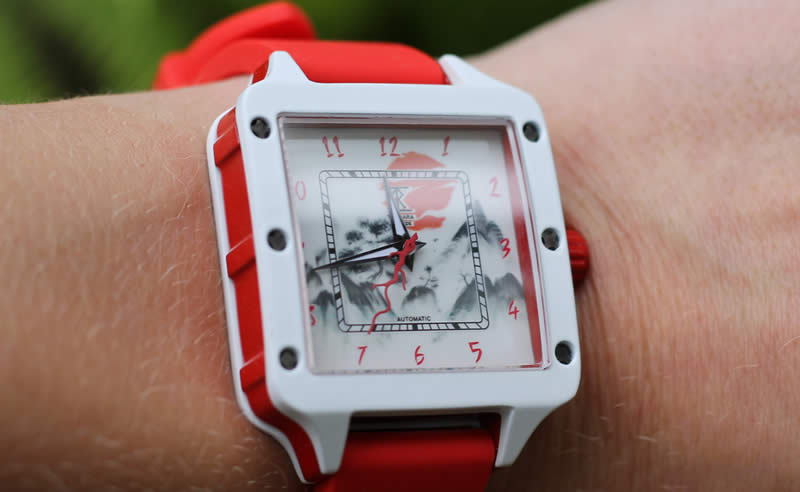 On the technical side Heiwa features "Talidara Cal. XX8" a modified Swiss 2824 movement with a 38-hour power reserve. The movement is visible from the window in the case back. The dimensions of the watch are on the smaller size, measuring in at 35 mm without lugs. The smaller size is to keep a classy look, and make the watch look nice on the wearer's wrist. A specific trait of the watch, as most newer watches are big and bulky and at times makes it look like the watch is wearing you and not you wearing the watch.
The watch is made and assembled in Denmark, the birthplace of Talidaras founder Frederik.
Heiwa is available for order now, and shipments will start going out in November 2023. There will only be 88 pieces of the watch made, once they are sold out there won't be any more made.
To see and read more about Heiwa, please visit the Talidara Jewelry website here where the watch itself can also be purchased directly.