Nikkah is one of the most important days in a girl's life. It is the formal union of both the bride and groom under Islamic laws. To celebrate this occasion to the fullest a girl tries her best to add perfection to everything on that day.
Starting from food to catering, dresses and make-up, invitations and celebrations, everything is well planned and organized. However, the most important thing for a bride is her make-up and nikkah dress. This is obvious as she wants to look drop-dead gorgeous on her special day.
Nikkah dresses vary in designs and styles depending upon the cultures and traditions of a region. However, the main theme of the nikkah is soft and elegant. On nikkah day, the Islamic brides keep in view the Islamic dress code as well. She adores pretty nikkah dresses that not only make her gorgeous but also cover her fully. Some brides also love to carry hijabs and even a veil as a part of their nikkah dress.
In addition to the culture and customs, nikkah dresses change with the variation in fashion trends also. Pakistani nikkah dresses include luxury shalwar kameez, maxis, and lehenga choli. They also include sharara dresses, saree, frocks, kaftans, gowns, and a lot more designs.
Colors like ivory, gold, silver, greys, pastels, and neutrals are a common choice for nikkah. Pakistani designers come up with their bridal collections every season. They bring new designs of bridal dresses that incorporate intricate designs to wear at nikkah, mehndi, barat, and walima. They also bring dresses for bridal showers and mayun.
Affordable Nikkah dresses brands in Pakistan
There are multiple brands that offer luxury designs for brides. However, you need plenty of time to visit all of them and select your dress. To save you time and money, La Mosaik brings the latest collection of bridal dresses for Pakistani brides. All these dresses come from popular brands that offer their designs in an affordable range. Starting from a variety of nikkah dresses to walima ensembles, there is almost every type of dress design in it. You have a wide range of designer nikkah dresses at affordable prices. Popular brands that present most beautiful bridal dresses include.
• Akbar Aslam
• Emaan Adeel
• Fashion Porters
• Rang Rasiya
• Reign
• Shahbano
• Sifona
• Zainab Fareedi
Latest Hand embroidered nikkah dresses online
Let us have a look at the top 7 stunning nikkah dresses of these popular brands. All these dresses are available in the La Mosaik Nikkah dresses collection.
Jazmin is a hand-embroidered, ivory-white luxury nikkah dress. It is a flowy long lehenga dress that comes with a traditional shirt and dupatta. It is a 3 piece dress that includes a pretty shirt, lehenga, and dupatta. The cotton mesuri shirt is embellished with intricate designs of kundan, dabka, pearls, and cut Dana work. In addition to this, the detailing with silvery sequins makes the shirt more attractive and beautiful. The lehenga is designed on crushed Indian raw silk. A complimentary silver lace lines its borders. This dress comes with an embroidered net dupatta. You can adore this stunning dress as your nikkah dress. The best thing about these dresses is that before buying you can schedule a video call to see the dress properly for your satisfaction.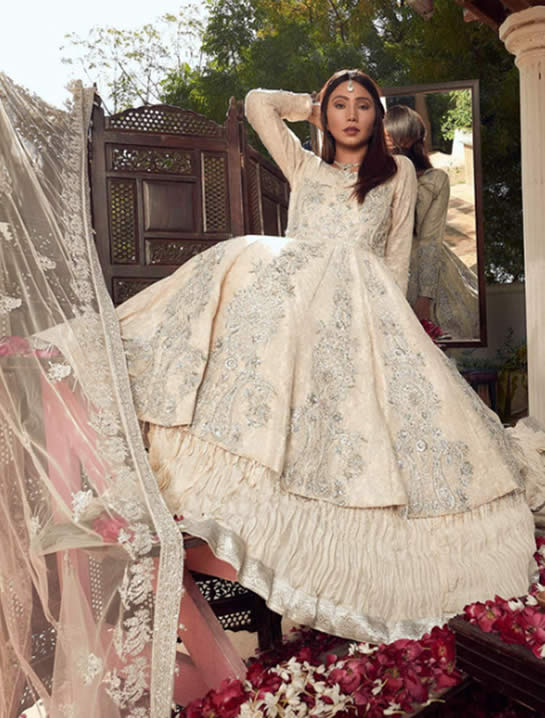 Chaandni
What else is more captivating than a bride in a grey dress? The grey color enhances the overall look of the bride and highlights her beauty and positive persona. Check out this amazing attire in the nikkah dresses collection of La Mosaik online. You can also wear it on walima. It is based on organza fabric. The long shirt of the dress comes with a detailed sequin work. It is heavily embroidered on the front and back.
The organza sleeves are also embellished with silver embroidery. Chaandni is paired up with a fully embroidered organza dupatta and a trouser. The trouser is silk dyed and stitched with matching silver lace.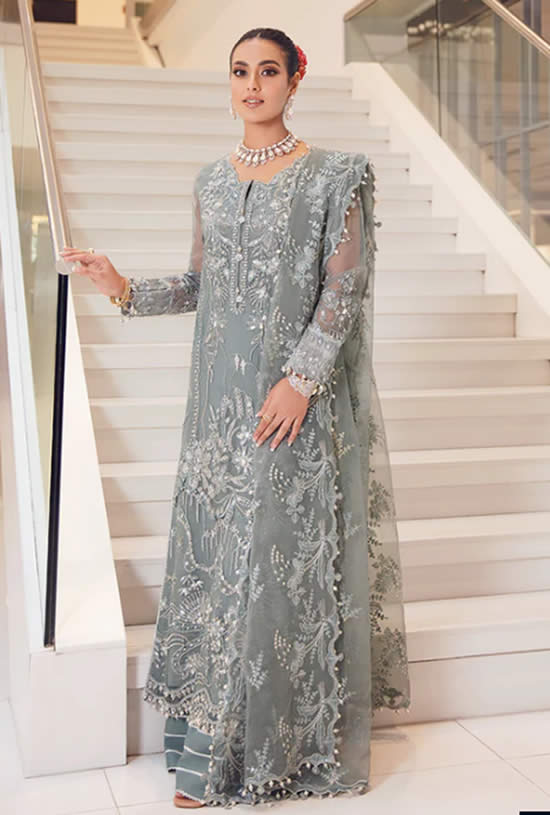 Maya
Maya is a peachy nikkah dress that satisfies the craving for peachy pink shades. It is an organza-based luxury dress, perfect for the nikkah ceremony. It comes with a full-length maxi that is heavily embellished with sequins and pearls. There is a delicate belt with hand embroidery on it. The trouser and shirt lining is silk dyed. This nikkah dress comes with a full-length dyed organza dupatta.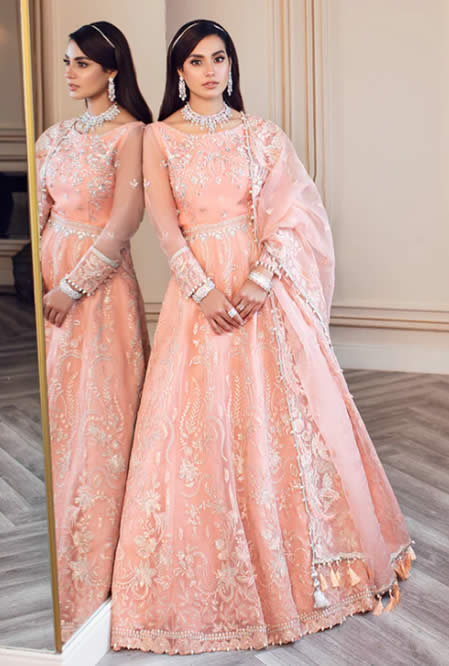 Veronica
If you are a fan of pastels, you must try this dreamy outfit. The graceful net-embroidered nikkah dress has a dazzling shirt design. The open shirt has embroidered tissue borders on both the front and back. Sleeves have beautiful designs of embroidery. It comes with a net embroidered dupatta and a Russian grip lehenga. It is highly affordable and you can also purchase it in stitched form.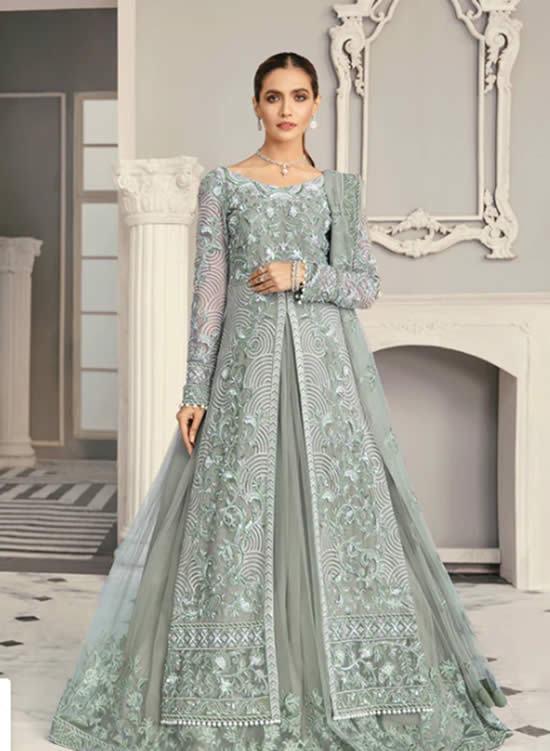 Noviristic
Enriched with traditional designs and Pakistani culture, noviristic stands out among other designs of Pakistani nikkah dresses. It is a hand-embroidered maxi dress with heavy details of dabka, sequins, and cut Dana work. The premium quality net fabric highlights the delicate embroidery design so well that it captures your heart at once. This golden luxurious ensemble comes with a belt border and a fully embellished net dupatta. Try it out on your nikkah to make your day memorable.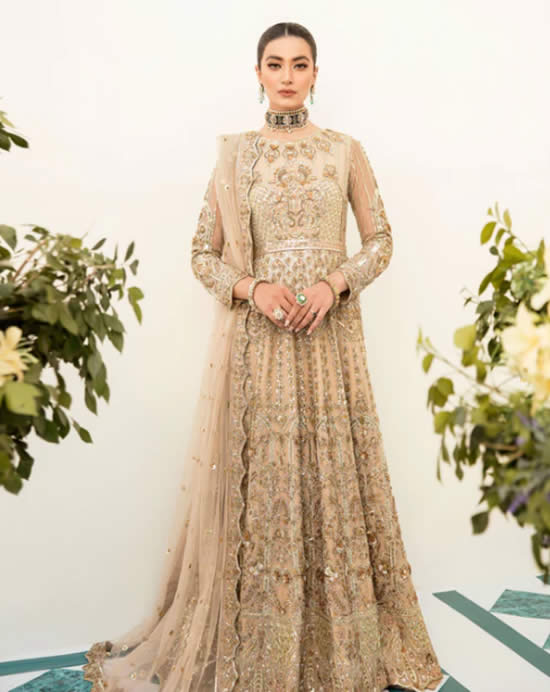 Ayka
These types of nikkah dresses are for all those brides who want to carry something unique and stylish. This is an olive green maxi dress with frills and detailed embroidery on sleeves, borders, and a dupatta. To add some spice to the ensemble, colors like orange and silver are used in embroidery. The neckline is delicately designed with beads in red, golden, and green shades. The heavy dupatta is embroidered on borders with orange lining and silver embroidery.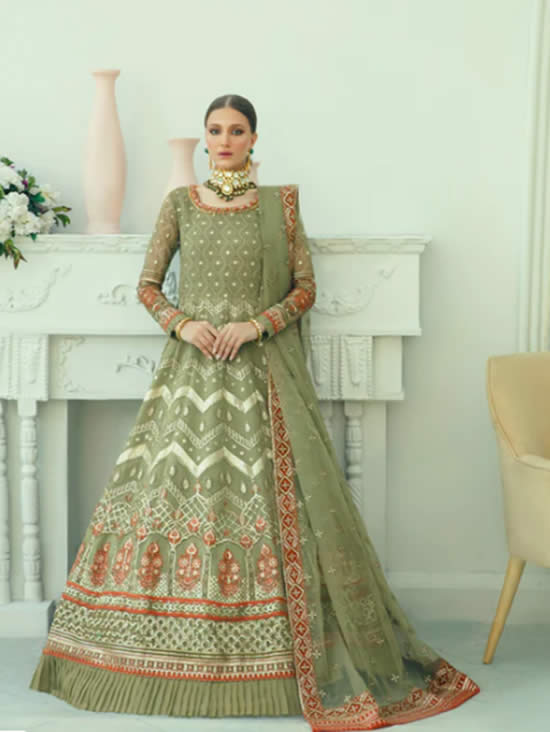 Queen bee
The queen bee is one of the dreamy and ideal nikkah dresses with a grey base color. It is heavily embellished with fancy embroidery in golden and red colors. Heavy beadwork and sequins give this dress a traditional and royal look. This net embroidered dress comes with a net dupatta, shirt, and lehenga. Check it out for your nikkah ceremony.