Pakistani Culture is very exclusive in terms of its social values. These values are so deeply connected that even after leaving the country and residing as an oversea Pakistani in the USA, Canada, Australia, and the UK or anywhere in Europe, Pakistanis remain loyal to those values. Shireen Lakdawala; A Pakistani designer makes it so easy to be connected with Pakistani culture by providing its services in the field of clothing in those regions. As a trusted Pakistani Brand, Shireen Lakdawala has several categories for dresses like formal-heavy, formal-light, luxury pret, and shawls. Now the brand's newly launched "Muskaan Collection" is going to bring a bloom to your wedding season.
You can find a wide range of the brand's offerings for wedding wear dresses that will adorn the occasion. Muskaan Collection for wedding season 2022 consists of thirteen dresses with distinctive features like hand-crafted dresses with tilla, kora, pearls, gotta, and ruby. These dresses are available in a variety of colors that are suitable for all the events of the wedding.
Mehndi Dresses
Mehndi is a pre-wedding event that is organized for the bride, her friends, and her close relatives. The main focus of the event is the application of the Mehndi, or henna design, to their hands and feet. In the pre-wedding event, Pakistani celebrates the occasion by doing a few traditional acts. Gia and Haya from the Mustaan Collection are suitable for this event wearing the traditional jewelry will be enough to enhance your look.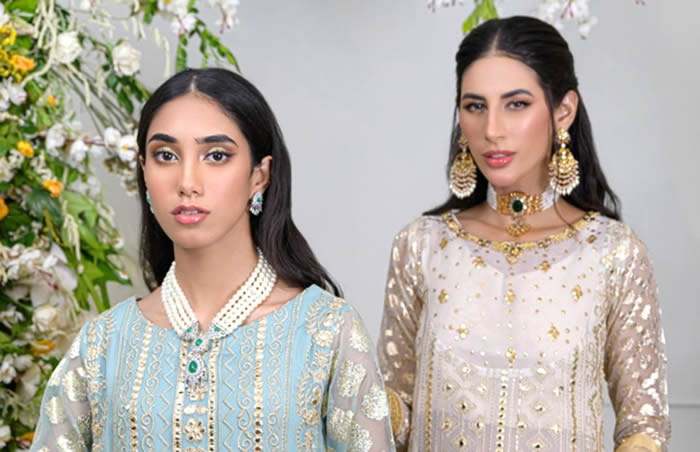 Pakistani Dresses for Barat
Barat is one of the most vital occasions at weddings. The desire of ladies to look their best is also at its peak because of the importance of the event. Here the women get their makeup done from the salons but the dress is a very important thing to select and get fit on its measurements. Shireen Lakdawala's Muskaan Collection addresses these issues, and it has solutions to deal with these problems. Firstly for the selection of your dress, you can visit the website and click on the Muskaan Collection, being shown on the menu bar, and shop online. Then comes the stitching issue, for which the brand provides a stitching service where you can get your dresses stitched by Shireen Lakdawala at the utmost satisfaction with accurate measurements.
Dresses for Walima
The next event of Baraat is Walima. This time things are more stylish, reasonable, and cultured with luxury. Women like to be graceful mostly in light blue, dark blue, and green Sarees. My recommendations for the Walima or reception are Erab, Merab, or Zarmin from Muskaan Collection. These are chiffon-stitched sarees with thread and sequence work. That helps you to be more gorgeous on your wedding occasion.
Dresses for After-Wedding Parties
The Walima is done, but there are still some events to be hosted later on in Pakistani weddings that include invitations for dinners to the newlywed couple by the relatives at their homes. Light suits are preferred in those cases. You already wore heavy suits on major occasions. This is a time to change your taste. Now you need something that looks luxurious and comfortable to wear such as Riya, Sheeba, and Soha from the Muskaan collection of 2022. This collection can also be used for the winter season too.
Muskaan Collection is very exceptional in a way because Shireen Lakdawala focuses on the design and details of each dress, making them stand out when compared to other designers. The Pakistani designers at Shireen Lakdawala incorporate modern and traditional trends together in an amazing way to make your look more stunning. The brand utilizes different colors and fabrics to bring many possibilities for you to choose from.